How do I get help? (How to contact support)
How do I get help? (How to contact support)
There are numerous ways how you can get in touch with our friendly customer support team if you're in need of some help or you just need company when you're setting up your store on Subbly or browsing through our site's pages. See what works best for you!
---
Knowledge Base
If you're setting your store up on Subbly and you need some immediate help with some of the basic features and with the setup, make sure to check out our extensive knowledge base from some most common troubleshooting. 
Simply feel free to type in the search field if you're having problem with something in particular and it will probably return some useful articles as result.
Some of the most commonly searched articles:
---
Subbly University
If you're more of a visual type of a learner our team created the University page where you can learn about how to create and run the store on Subbly through a series of instructional and tutorial videos, check it out below.
---
Chat Widget
As you may have already noticed, there is a chat widget on the lower right corner of your Subbly admin which you can use to talk to one of our customer support agents (yup, a real person).
Here's how you do it: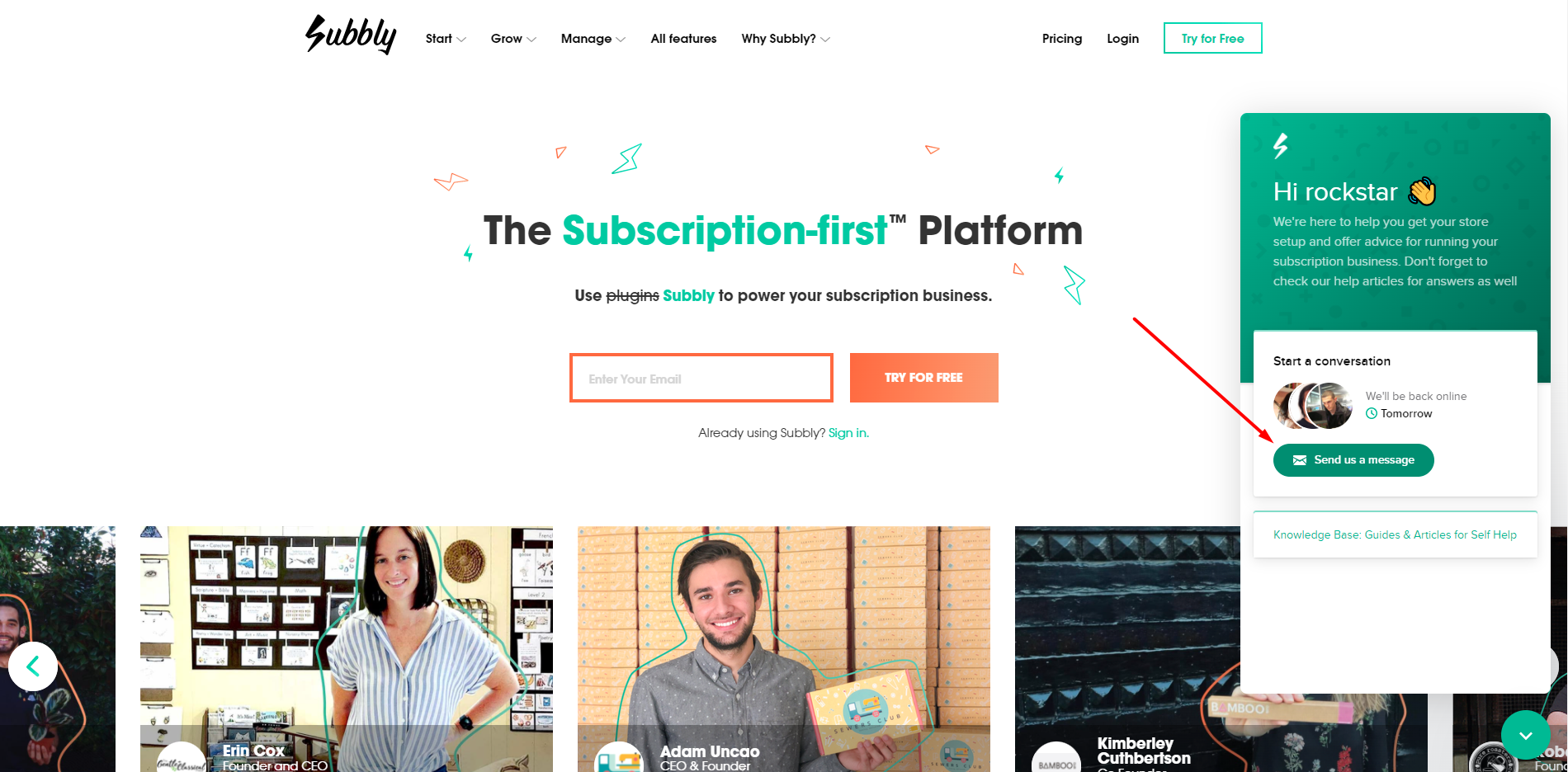 Usual response time is within 20-30 minutes, based on the workload we're currently handling and the availability of the support staff. Please do note, however, that we always reply to all your queries, so make sure to leave an email so you get notified about our answer. If we don't get back to you instantly, please don't be mad at us!
---
Email
You can reach out by sending an email with your questions to support@subbly.co anytime.
---
Phone
At this point, we are offering phone support only if you're on our Enterprise plan and if you have account executive designated. If you're interested in Enteprise plan make sure to contact us for more info.
You can see our current pricing here. 
Did you find this resource helpful?