How can I access my previous receipts/invoices?
How can I access my previous receipts/invoices?
Updated by Jun Hyeok Yang
We know how important is to have everything in place when it comes to accounting. So if you were wondering if there was an easy way to access your billing history, keep reading..
---
How to access your Subbly invoices?
First of all, make sure that you're logged in to your Subbly admin, at the upper right menu of your admin, click on Billing Info to enter billing options and be presented with: 
Billing Info
Update Billing Info 
Billing History (that's the one!)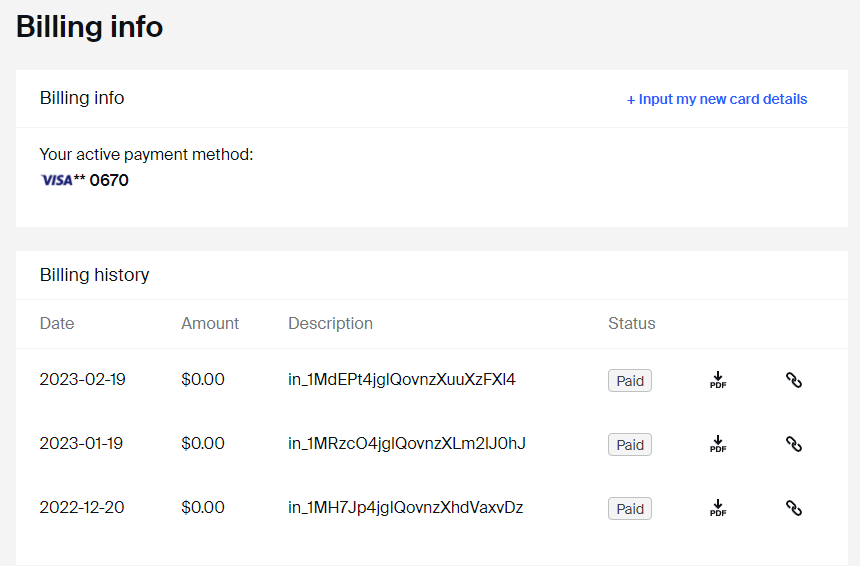 Click on View Billing History to display a breakdown of all your past invoices which you will be able to view or download as PDF documents.

Voilà! Review online or use your preferred storage method.
---
How to change the CC associated with your account?
As of now, on Subbly, you will be only able to have your debit/credit card as the payment method. Payments via ACH/PayPal or other methods are currently not supported. 
If you want to change the card associated with your account, you will need to navigate to the Billing Info section of the admin and change the CC by clicking on the following button.

---
Any questions? Our customer support live channel will be glad to help.
Did you find this resource helpful?