Updated by Andrija Krstic
If you have a business PayPal account and you'd want to enable this payment gateway as an option for your customers, this article provides all the steps needed to connect PayPal Business to your Subbly account so you can start receiving payments through PayPal.
---
Please note that direct integration with PayPal Business is currently available
only for merchants based in the US
. If your business is not based in the United States, but you're still looking to have PayPal as an option on your account, please proceed connecting
PayPal via Braintree
.
Setup steps
Head over to the Billing section of your Subbly admin. If you don't have any payment processors enabled you will be prompted to choose which one you'd want to add so just go with PayPal. If you already have some payment processors added, you will need to choose to Create a gateway and choose PayPal from the drop-down.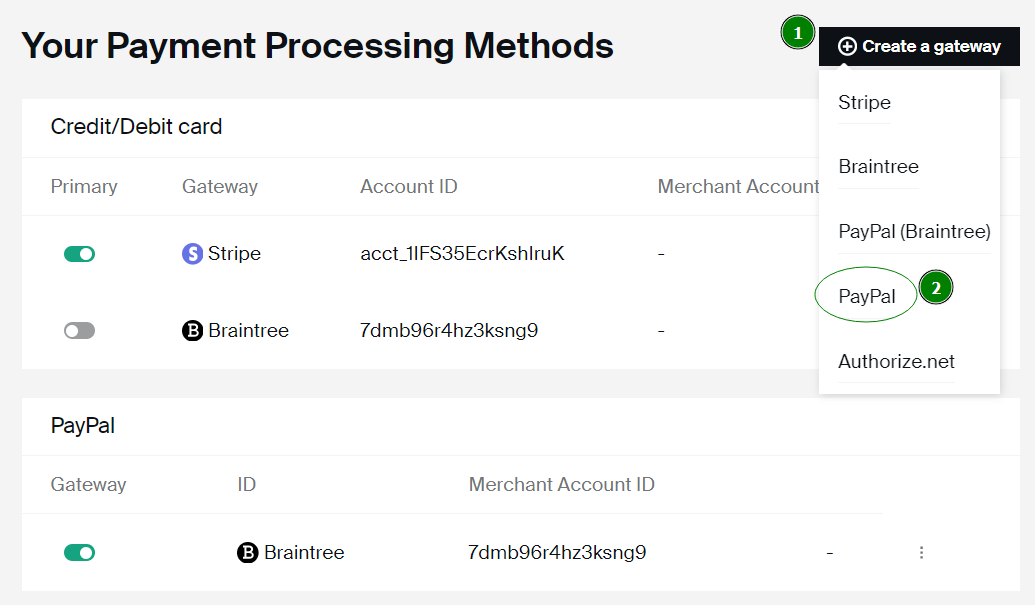 You will be taken to the PayPal login screen where you will be asked to login to your PayPal Business account and you'll get asked for permissions for PayPal client to communicate with Subbly.
Please note that this works only with PayPal Business accounts. If you have personal PayPal account, PayPal will try to convert that one to Business account (you'll get prompted to confirm the conversion from regular to business account).
Once you go through the setup steps on PayPal, you will be presented with the success screen, similar to the one you see below.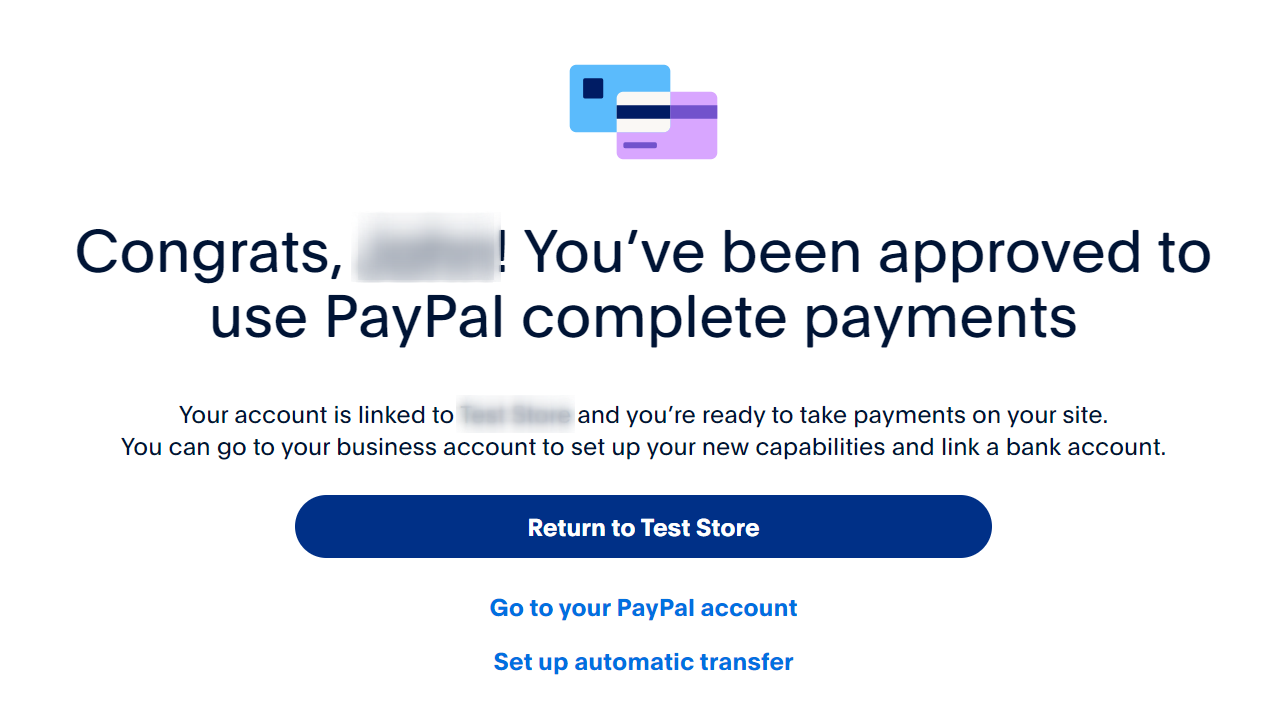 This means that your PayPal direct integration has been setup successfully! If you head back to the Billing section you should be able to see that PayPal is enabled as a payment gateway, same as in the picture below.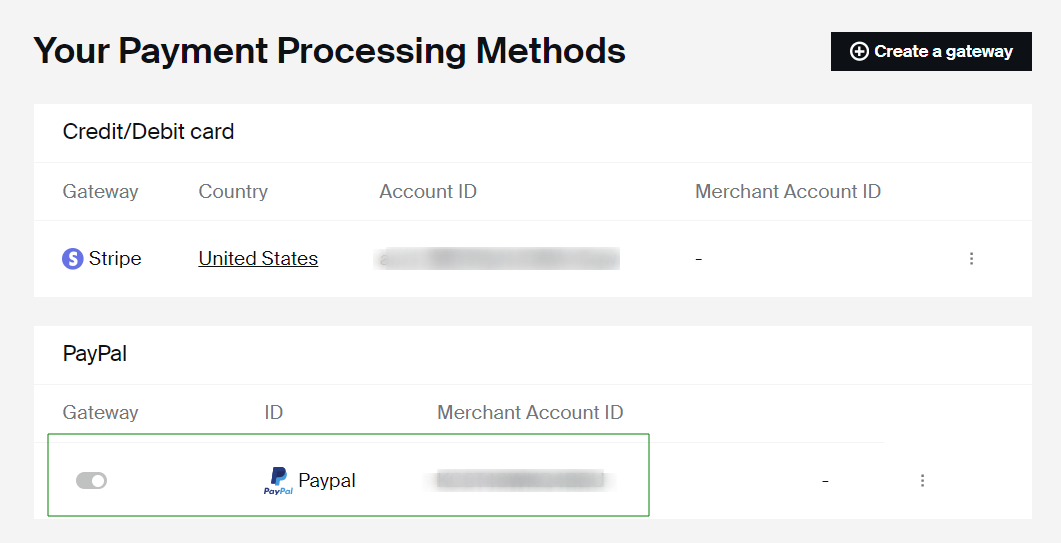 By default, Subbly handles setting up an app on your PayPal dashboard. You can change play around with the setup on PayPal, however, please make sure to keep vaulting enabled, otherwise the PayPal integration won't work (if it's disabled).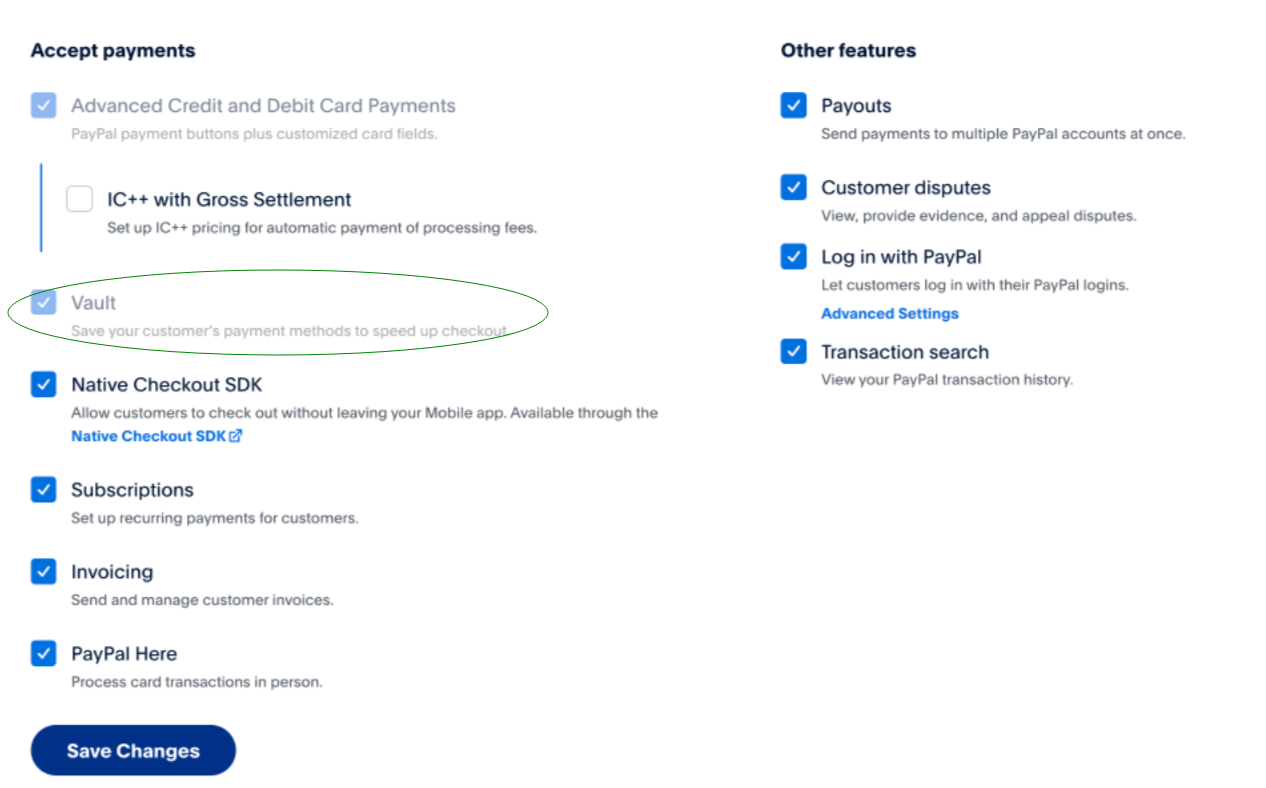 ---
How does it work on the checkouts?
If you've successfully followed the setup steps and managed to get PayPal to work on your account, PayPal will simply be presented as a payment option on the checkouts to your customers once they get to the billing step.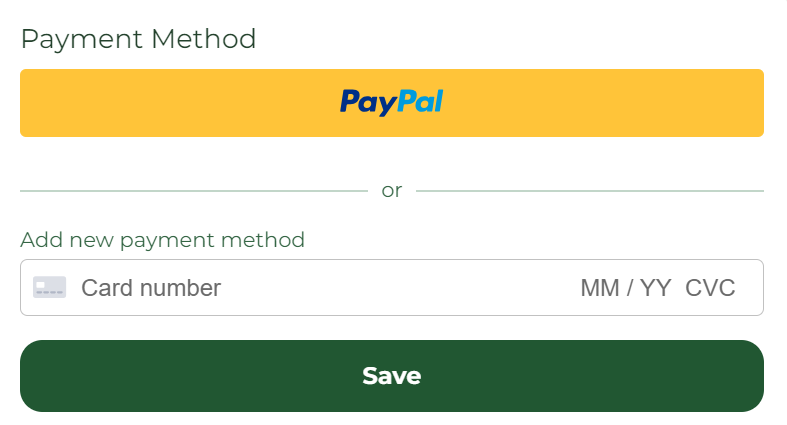 They can choose PayPal as a payment option or proceed using their credit card if you have one of the card payment processors enabled.
---
FAQ
Can I offer only PayPal as a payment solution at the checkouts?
Yes, if you only have PayPal created as a payment gateway on the Billing section, your customers will be able to checkout only using PayPal (no credit card will be supported).
What are the fees for using PayPal?
Subbly charges 1.25% transaction fees on PayPal transactions if you're on Lite, Basic or Subbly plan. If you're on Advanced plan, you're entitled to lower fees for PayPal (1% per transaction). Subbly charges the PayPal fees via weekly invoice charged directly to the credit card we have on file for your merchant account.
Please review Subbly's plan pricing
here
.
Why is this only available in the US?
We built our integration on top of the latest iteration of PayPal's API. As PayPal requires vaulting to be enabled for merchant accounts, and given that vaulting is currently only supported for the US PayPal Business accounts, this type of direct integration is at the moment only available for the merchants whose businesses are located in the United States. We're actively working with the team at PayPal to enable the direct integration for the rest of the world as well.
Can I migrate my customers from PayPal?
Yes, there is a solution of migrating the customers over. Please refer to this article for more information on the process.
Can I have both PayPal and some other payment processor running at the same time?
Absolutely. You can have PayPal enabled along with any other card payment method (Stripe, Auth.net, Braintree...). Customer will be presented with different solutions when at the checkout.
If I have PayPal both as a direct integration and via Braintree, which one will take precedence?
The one that's been labeled as primary PayPal option within the Billing section of the admin. By default, PayPal is immediately being added as a primary option in case you already have PayPal setup through Braintree in the past.
Did you find this resource helpful?