Can I manage the email notifications I receive?
Can I manage the email notifications I receive?
Updated by Rich
Subbly informs you about the most relevant events happening in your store via email notifications. To keep your inbox clean, you can decide which emails you would like to get.
---
First of all you will need to go to My Account section on Admin and then Email notification preferences located under Account information.

Click on Manage notifications to open the Menu where you'll be able to turn on/off the event in question you'd like to be informed about (by default every notification is active).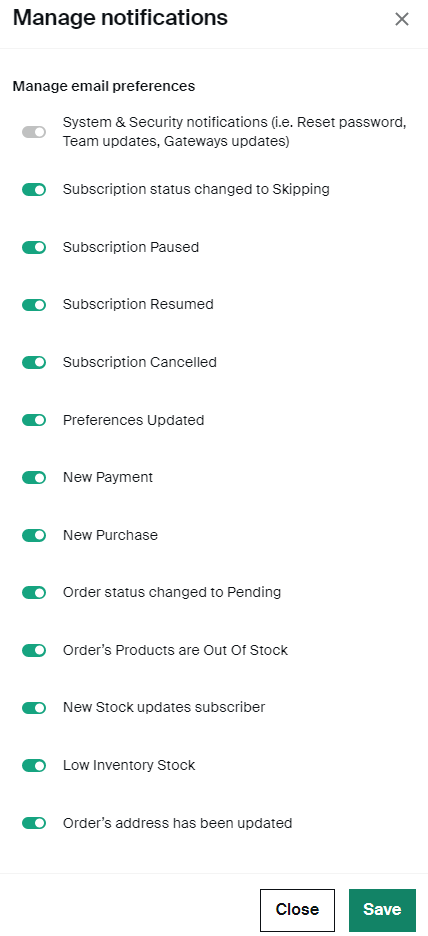 System & Security notifications - related to highly sensitive actions such as resetting the password of your account, a new user added or removed through the Teams app or any change of the payment gateway.
Due to the relevance of the System & Security events, these are the only notifications that cannot be deactivated.
Subscription status changed to Skipping - Customer opted to skip the next payment(s) of the subscription.
Subscription Paused - Customer decided to pause the subscription without a specific renewal date.
Subscription Resumed - Customer has reactivated a paused subscription from the customer portal.
Subscription Cancelled - Customer has canceled the subscription from his/her account.
Preferences Updated - Customer has chose new survey selections for the subscription.
New Payment - One of your subscribers has been renewed successfully.
New Purchase - You have sold a new subscription or a new one time product.
Order status changed to Pending - An order with Future Shipment status has become Awaiting Delivery so it's ready to be shipped.
Order's Products are Out of Stock - You have received an order with contents out of stock. This is only applicable if you are using the inventory tool and didn't limit purchase of products with insufficient stock.
New Stock updates subscriber - A customer has opted to be notified when the item is in stock again. You'll need to be using the out of stock function.
Low Inventory Stock - If using the inventory tool, you'll be notified when you have less than 6 units for a given SKU.
Order's address has been updated - When a customer updates his or her address on the Customer Portal, this notification will be sent.
Don't hesitate to contact the support team if you have any questions!
Did you find this resource helpful?