How to use the Addons Upsell feature?
How to use the Addons Upsell feature?
Updated by Sasha
Have you wondered whether it's possible to offer products outside of your checkout and website? We've heard your insights and thoughts and introduced Addons Upsell feature, that helps to expand your offer even on the Customer Portal. Putting it into action will help you increase not only customer lifetime value (LTV) but also your monthly recuring revenue (MRR). This feature has proven to be very effective with increase of customer satisfaction and enhancement of overall experience.
---
Video tutorial
Sometimes it's much more convenient simply watching the video tutorial instead of reading bunch of text. So we just recorded one for you. Please find it below!
---
Difference between Addons upsells and Funnel addons
Both type of addons are one time products that help to increase customer value and revenue. Addons upsells aim to enhance and enrich your general offering, while add-ons located in the funnels are more streamlined with the products they're being attached to or offered with.
However, the most obvious difference is once enabled, Addons upsells are located exclusively on the Customer Portal, whereas Funnel add-ons (subscription add-ons) are present during checkout as part of a Funnel.
---
Setting up Addons Upsells
1. Let's get started! You can access and enable Addons Upsell in the Admin > Growth > Addons Upsell > Upgrade.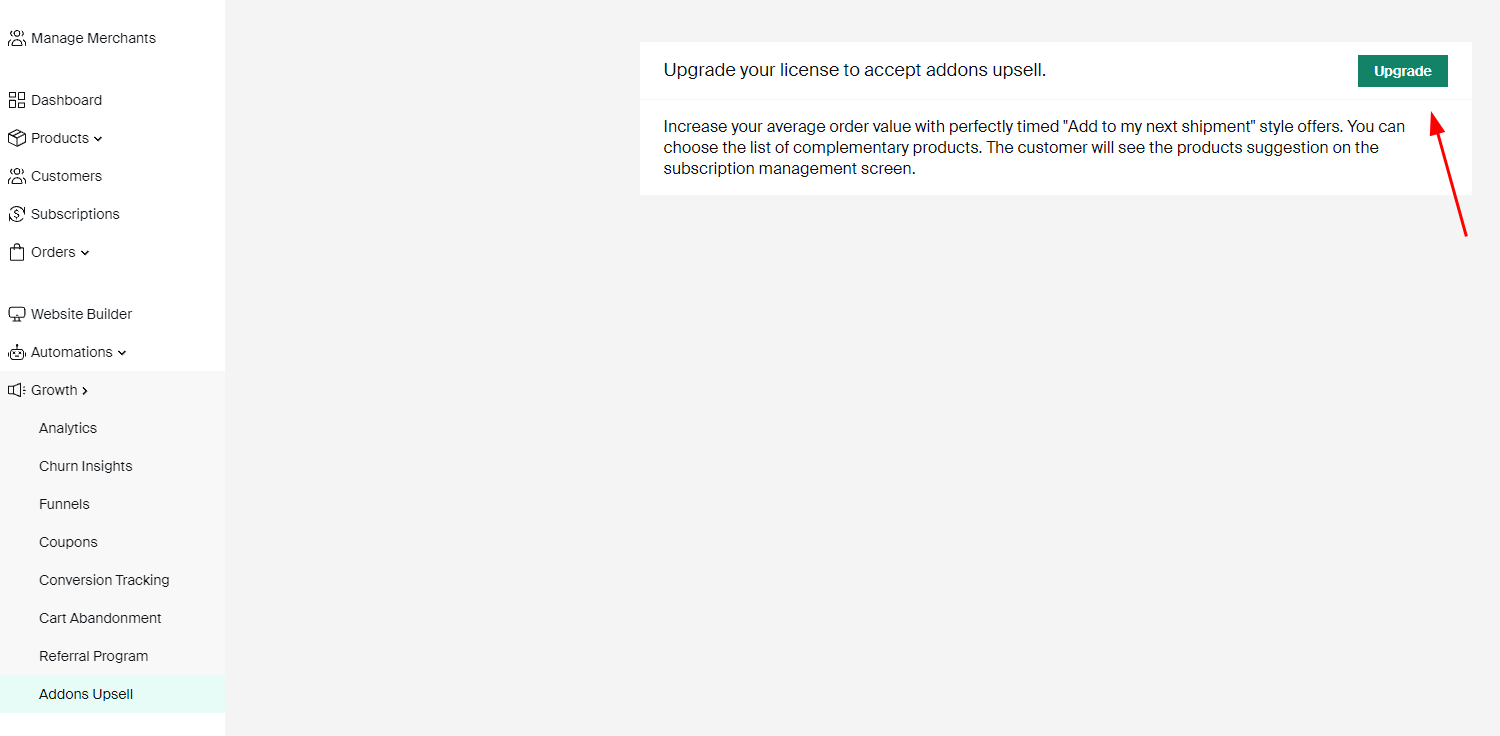 Once enabled you will see the following fields: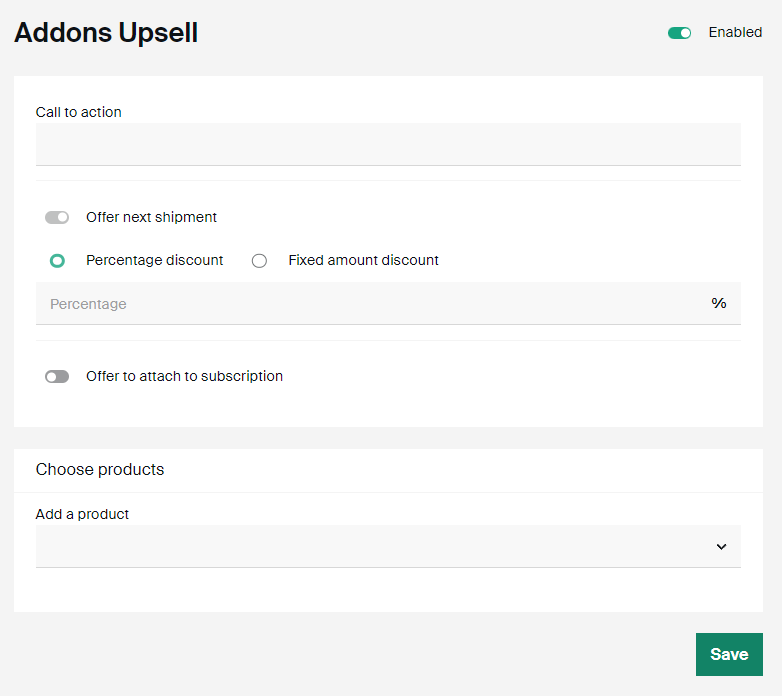 2. Add a customized Call to Action (CTA).

Take some time to come up with a catchy CTA, it's the only thing the customers will see besides the products themselves.
3. Configure your Addons Upsell offer by selecting any of the following toggles: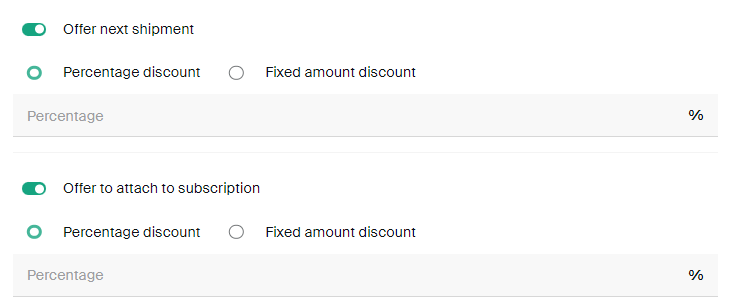 Offer next shipment - This toggle is used for Addons Upsells that are offered as one time purchases only.
Offer to attach to subscription - This toggle activates the capability for a one time product to be always attached as a part of a customer's next shipments.
Percentage discount - Used if you want to offer an Addons Upsell with a price discounted in percentages.
Fixed amount discount - Used if you want to offer an Addons Upsell with a certain amount of fixed discount.
Selected addon upsells are always part of the next shipment, thus they are not billed immediately.
4. Choose products from the drop down that you want to offer on the Customer Portal.

5. Hit Save.

That's it! Your Addons Upsell feature is now configured.
---
How does this feature work in practice?
Once the feature is activated, it will be present for all your customers on their Customer Portals. Follow the next steps to see how a customer can access this feature on the Customer Portal.
After they log into their account they need to press Manage, that's located under one of their subscriptions.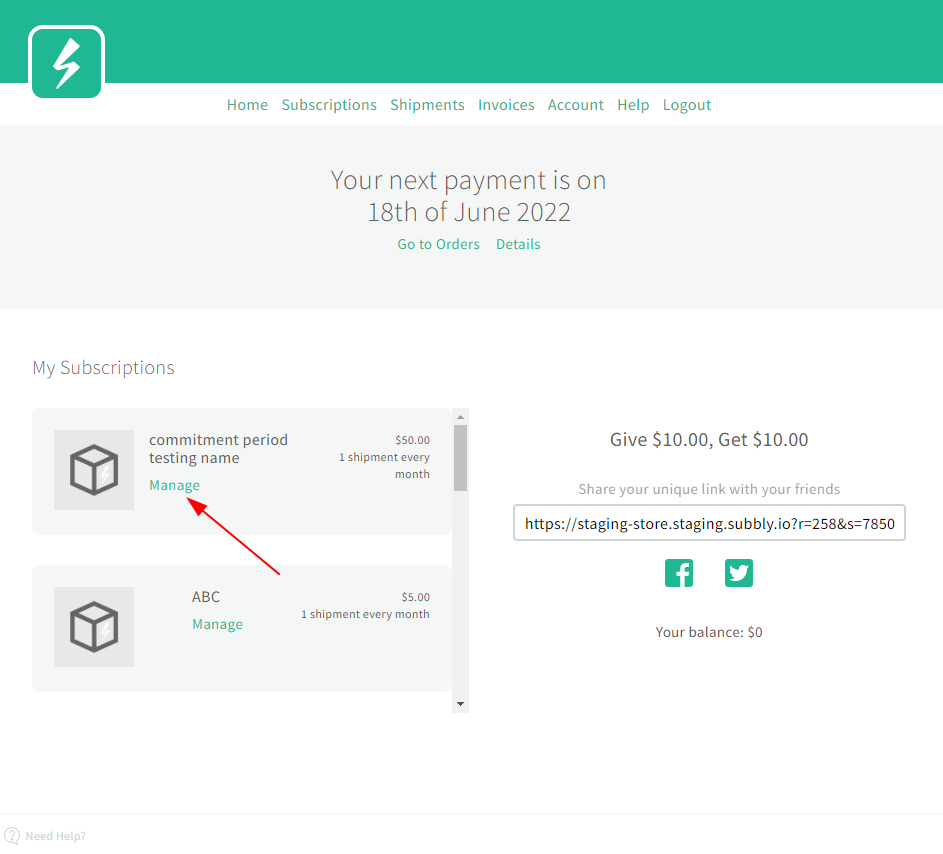 And they will see the Addons Upsell offer based on your configuration. In the following images you can see an example of a setup, and how it's reflected on a customer's Customer Portal.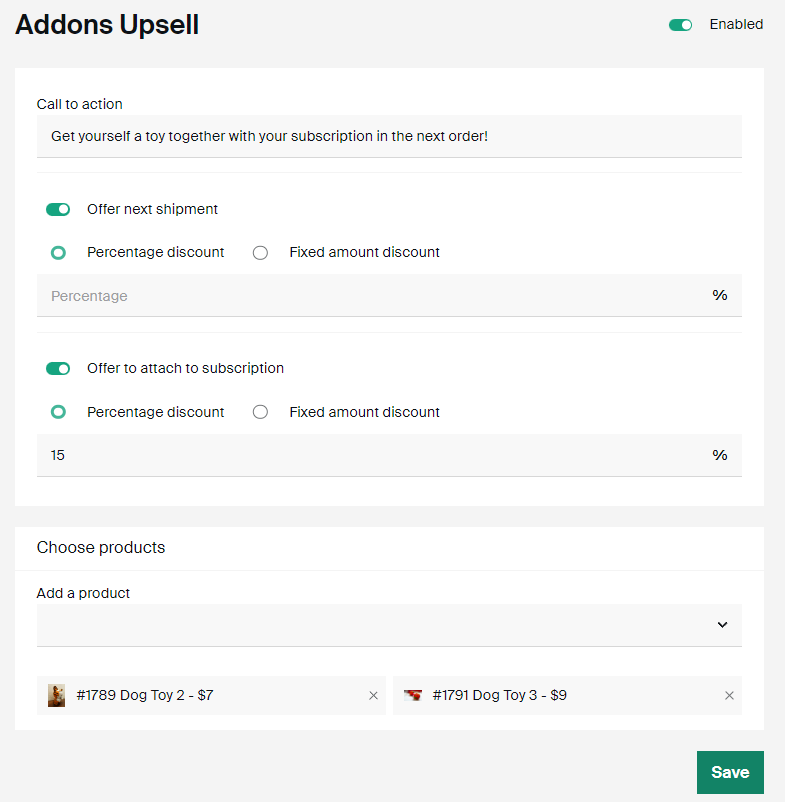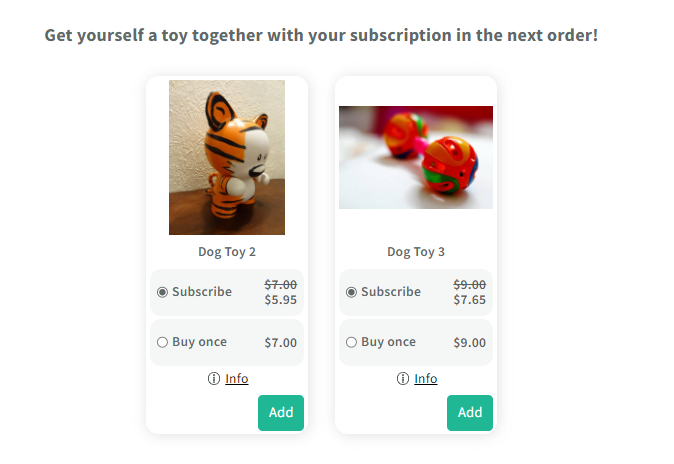 There's also the Info section where a customer can see the Product description.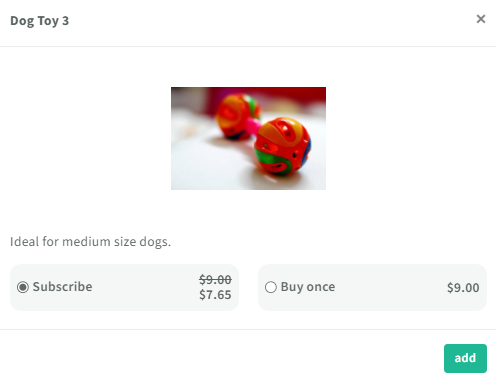 ---
FAQ
I cannot see this feature in the Marketing section, why is that?
If you're on Lite plan, this feature isn't available. It's available starting with the Basic pricing plan.
We've had 10 successful transactions, but it seems that they somehow stopped, although our customers reported purchases, what's going on?
The Basic plan gives you up to 10 successful individual upsell transactions per month across all subscribers, after which no more offers will be displayed. Unlimited usage is available on the Subbly and Advanced plans (see our offer HERE).
Did you find this resource helpful?