How do I cancel my account?
How do I cancel my account?
We're very sorry to see you go, and would really appreciate your input on why did you decide to leave Subbly. We take customer feedback very seriously over here and are always listening to any constructive feedback, so please do let us know if you need anything in terms of features/functionalities and if you're needing help setting your Subbly. You can mail in support@subbly.co at any point!
---
If you still decided to cancel, please follow the steps below. If you're on a trial, you can cancel your trial easily within the admin, no hassle.
Go to the plans page once you login.
Find the section highlighted below on the plans page.
Click on the 3 dots and proceed to request cancelation on the following drop-down window as shown below: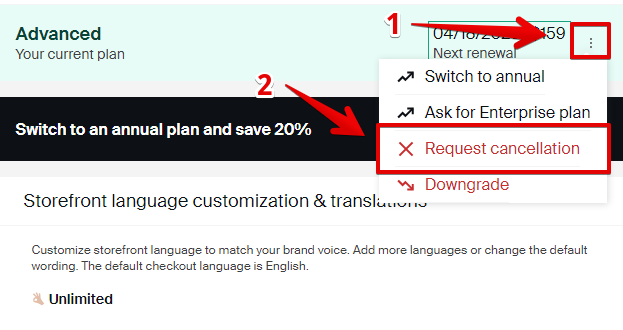 Please note that submitting this request and going through this form automatically queues up your store for cancellation, and it will be cancelled on the next renewal date. No further charges will be taken from your account
---
Why do we require this?
It's simple, the reason we ask you to contact us to cancel is because shutting down a store is a little complex, the reason for this is that the nature of subscription is that it's recurring and often there is upcoming orders which are paid for but not visible in your orders section yet. To be fair to the customers we need to notify you of what the implications are of you closing your shop. Additionally it gives us valuable feedback so we can improve our platform for the future.
---
Important considerations
When cancelling your account on Subbly, please acknowledge the following:
Cancellation stops the auto renewal of your recurring subscription with Subbly. 
Your account will still be active until the end of the billing cycle. 
If you've paid for a year upfront, your account will be active until the end of the 12-month period unless the opposite is specifically requested by the customer. Unfortunately, we are not in position to offer any prorated refunds as per our terms and as per the discount and promo price of the subscription you got by committing for a year upfront.
Cancellation does not delete your account with Subbly, you'll still be able to login and reinstate the paying plan with Subbly if you want. 
Very important thing to note is that if you still have any active subscriptions upon requesting and proceeding with the cancellation, their accounts/subscriptions will be cancelled as well and they won't be recharged for their renewals after the account termination.
Did you find this resource helpful?