AI Author Bot (powered by AI)
AI Author Bot (powered by AI)
Updated by Andrija Krstic
This article explains the usability of Subbly's groundbreaking AI-powered tool - AI Author Bot. Automate personalization of everyday customer communication and build trustworthy and meaningless relationship with your customers, all at a tip of a button.
---
AI-powered Author Bot is part of the
AI Powerup Add-on
on Subbly, which is a paid add-on priced at $29/mo on any given Subbly plan, except for clients on an Enterprise plan. Additional feature gating included so please make sure to review the pricing and usage matrix
here
.
AI Powerup Add-on is a bundle of AI-tools that includes both the AI Author Bot and
Predictive Churn
feature.
What is an AI Author Bot?
AI Author Bot is an AI-driven bot that should be used to streamline and humanize the customer communication between you and your customer(s). There are many different possible use cases how it should be used and this article will present only some of them.
In a nutshell, it's an AI-powered content (email) writing tool, and just by the looks of it, it doesn't sound like a needle-moving feature. However, coupled and used alongside other Subbly features, it makes up for a wonderful (AI) companion and irreplaceable tool that you won't want to change ever.
---
Setting up AI Author Bot
Setting up the bot requires setting up Automations that will use the Send Email (AI) action on the automations set. When setting up the Automation to send an email to the customer after specific events triggers the automation (and an AI-generated email to be sent).

The whole trick around setting up bot is to feed him the correct instructions in the Prompt field when setting up the automation. Don't forget, you're speaking with the bot here! For best results, try to be as clear as possible when instructing the bot what it should include in the customer's email.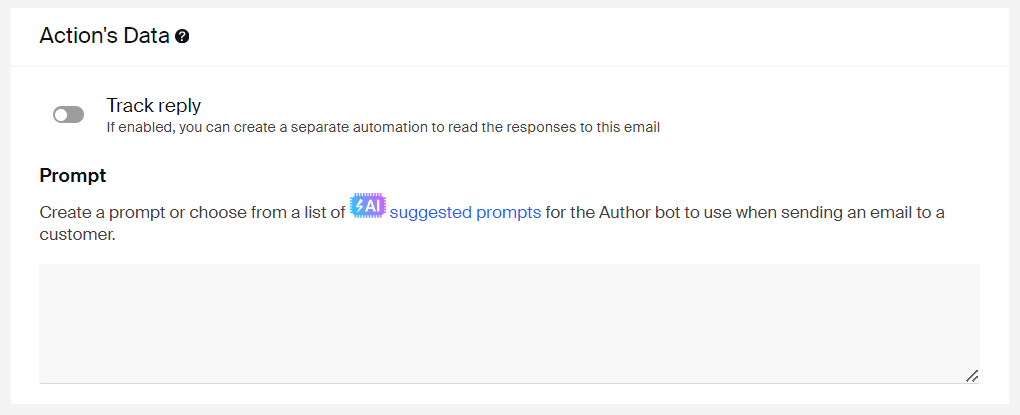 ---
Use cases and inspiration
#1 Humanize sending Invoice Overdue emails
#2 Inform the customer about the new item on the Feed
#3 Win back cancelled subscribers by AI-approach
#4 Inform customers that their order is on its way
#5 Welcome the customer to the newsletter list and try to convert them to paying customers
#6 Collect a review after the shipped order
#7 Check on the increasing churn risk score for the customer
#8 Try to revert the scheduled cancellation at the end of the commitment term
Did you find this resource helpful?