How to set sequential subscriptions in Subbly?
How to set sequential subscriptions in Subbly?
Sequential subscriptions is a popular business model and we're frequently having these types of questions on the support chat 💬 In this article, we'll explain how you can utilize Subbly to build sequential subscription product.
---
What are sequential subscriptions?
For those wondering on what sequential subscription model actually is, this type of box is the subscription box that provides the same experience to it's customers in a way that builds on top of itself in a sequential order. This practically means that every new subscriber gets qualified for getting the boxes in a sequential order starting from the Box 1, followed by Box 2, 3, and so on, regardless of when they signed up for the product. 
This business model is frequently being used by companies offering an education-based content. Drawback/limitation of the model is definitely needing to have a large stock of items at hand at every point (these companies are not sourcing their products on a monthly basis), but also having a tech-stack to support this may be quite challenging. 
That's where Subbly comes into play though 💪
---
How to manage sequential subscriptions in Subbly?
Like other regular types of subscriptions, sequential ones do not differ when it comes to setting up the billing/shipping cadence for these, so you can stick with the instructions on how to create the subscription product on Subbly which you can find 👉 HERE. 
However, the problem arises on how to handle fulfillment, ie., how will I know what box is due to be shipped to what customer? 
It's simple with Subbly 😉
If you check the order slips that were created for your customer's orders and accessible inside Subbly, you will see the following information 👇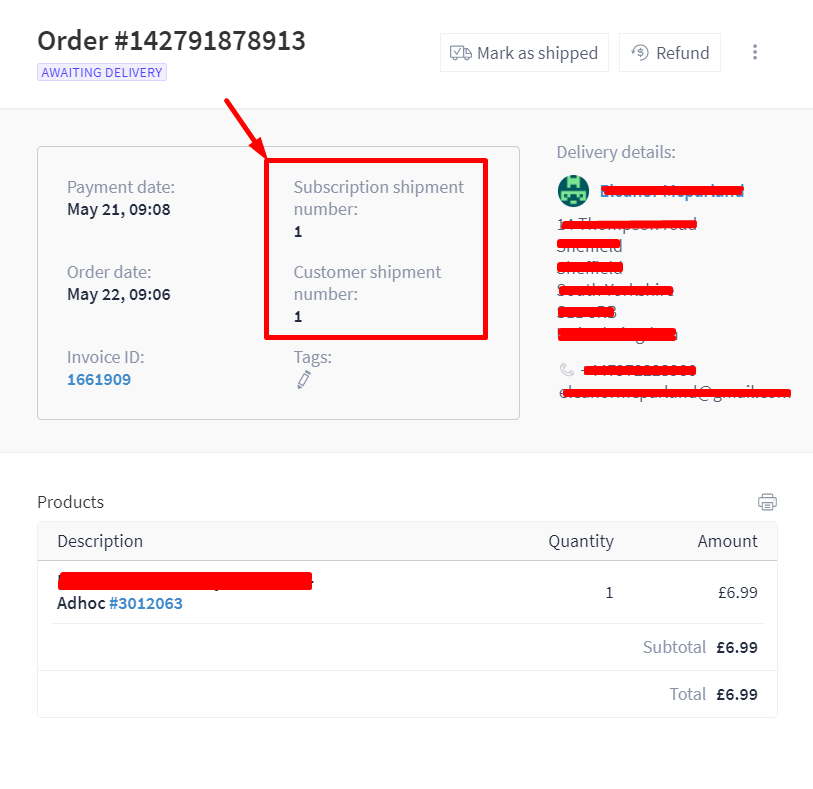 Subscription shipment number - shows the serial number of the order for a specific customer's subscription. If it's 1 as in an example above, that means that we're looking into the very first order for that specific customer's subscription and we should be sending the Box 1 based on this. 
Customer shipment number - shows the serial number of the order for the customer's profile as a whole. Remember, customer can have X different subscriptions to his/her name. This metric shows the number of orders for all of the customer's subscriptions (not only for the specific subscription). 
When handling customer's orders and managing fulfillment, you can always export the orders in CSV and these values will be part of the CSV as well, so you can use that info to know what shipment is due for what customer 📦
If you're using the integration we have with Shipstation, no worries at all. We will pass this info as well so you'll see the subscription shipment number there as well 😉
❗️The subscription shipment number is not transferred to Pirate Ship as of yet. 
---
FAQ
How does this work with
pausing

?

Pausing won't have any effect on this. Order count will continue regularly after the customer's subscriptions gets unpaused and after next order gets created for the customer. 
How would this work for cancelling and resubscribing at a later date?
It will still work 😉` Remember that we're tracking the customer shipment number as the historic number of orders for the customer. As long as the customer resubscribes using the same email he/she was using before, you will still be able to see what is the next order he/she should be getting in sequence.