Our product builder is super flexible tool which (we believe 🤞) caters towards all possible business setups. One modification and usual business setup would be something that we like to call an adhoc subscription. See below how to set it up on Subbly 😉
---
What is an ad-hoc billing?
If you don't have any specific renewal dates which are set to specific days of the week/month/year, and you're handling your subscriptions as they come, than your product setup is what we like to call adhoc 😊
Let's take, as an example, that you're running a regular monthly adhoc billing/shipping cadence for the product. In this example, if somebody was to subscribe to your product on the 22nd of a given month, the next renewal will fall on the 22nd of the next month and of every month after that. Simple as that 😊
---
How to setup this on Subbly?
Easy 🤗
For already existing help article explaining how to build subscription products in general on Subbly please see 👉
here
. 
You can see an example of an adhoc setup (most frequently we're getting merchants setting monthly adhoc subscription plans) down below 👇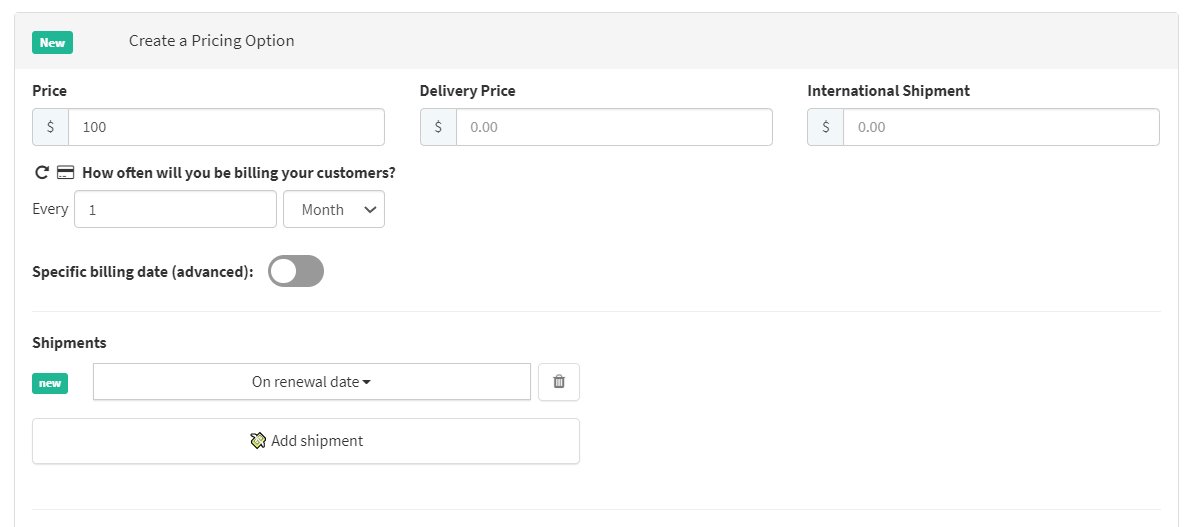 If you wouldn't want the shipping date for this product to be the same as the actual renewal date, you can feel free to choose how many days/weeks/months after the actual renewal will shipping be created, so feel free to set the shipping date appropriately.

Following the previous example, let's say that you need a week between the renewal date and the shipping date (you usually need 7 days to get the order prepared and delivered to the customer). In that case, you will simply set the shipping date to come 1 week after renewal. As a result of this, the customer who subscribed on the 22nd of the month will have the shipping date set to the 29th of the month (a week after) 📦
Similarly, you can build lots of different adhoc subscriptions 😎
If you're more convenient with the nice little video tutorial, please check one below 👇
---
How to add an anchored shipping date for your adhoc subscription?
We've recently introduced a new improvement to the way the adhoc subscription setup works. This is useful for merchants in order to consolidate all their shipping requirements under a single date. 👍
Previously, shipping was determined by the date the customer subscribed to so it would unnecessarily create a lot more work or force merchants to manually change the billing dates. But with this new update no matter when your customers sign up, their shipment can be scheduled for the specific date you set for every cycle.
If you set a specific shipping date for the 15th of the month for example, if a customer subscribes any day before that time period, he will always get their box on that exact day. If he comes after this period, he will get the shipment on the 15th of next month (similar to the way the
anchored
setup works). 
Do note that the rebilling will still stay the same, only the shipping date is affected by this option.
You can enable this by toggling the "Specific shipment date" option in the product setup options as shown below. ⬇

If you have any more questions on setting this up, be sure to contact the support team for further assistance. 😃