Introducing the membership product setup, ideal when having a service in your portfolio that doesn't require shipping physical goods.
---
Membership products are best used to serve as a paywall for digital content. You will want to use membership subscriptions with
content feeds
in order to achieve this setup.
Definition and video tutorial
First of all, let's clarify that membership is a subscription product, but the only difference is that it won't automatically generate orders that need to be shipped, matter of fact, it won't create any order given that is meant to be used for non-physical services, such as digital courses, access to downloadable or cloud-stored files, maintenance fees for a service, or basically anything that doesn't require shipping.
For video tutorial on how you can utilize and setup membership type of products you can check the video tutorial below:
Not sure if the membership model is for you? We've got some useful advise
here
.
---
How to build a membership product?
The process is straightforward and very similar to creating a subscription product, but with fewer steps. Check it out!
To begin with, make sure to select this type of product from the Products section by clicking on the Create a Product dropdown: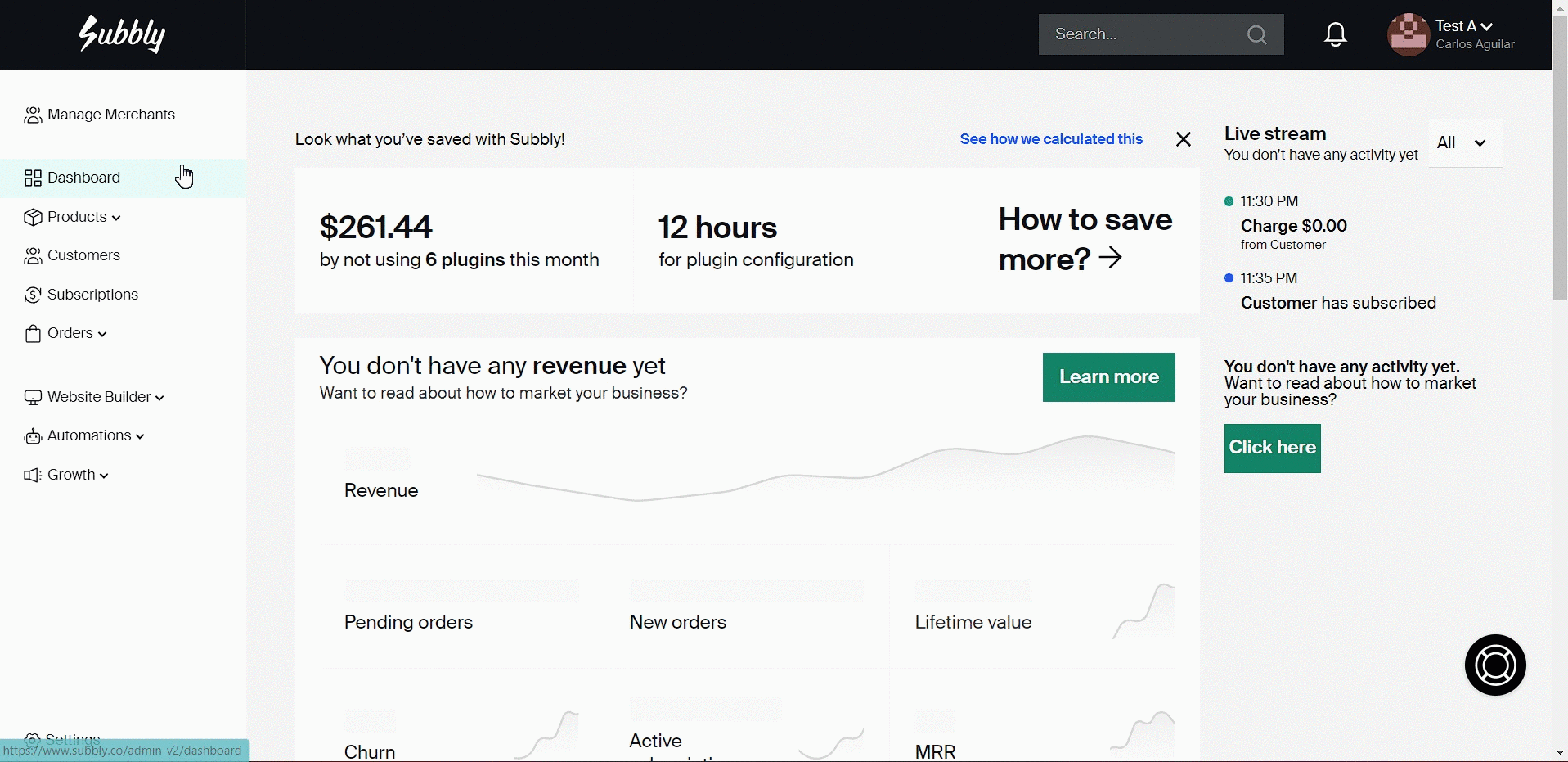 ---
Product setup
We need to input the general information of the product and then cover 3 more steps: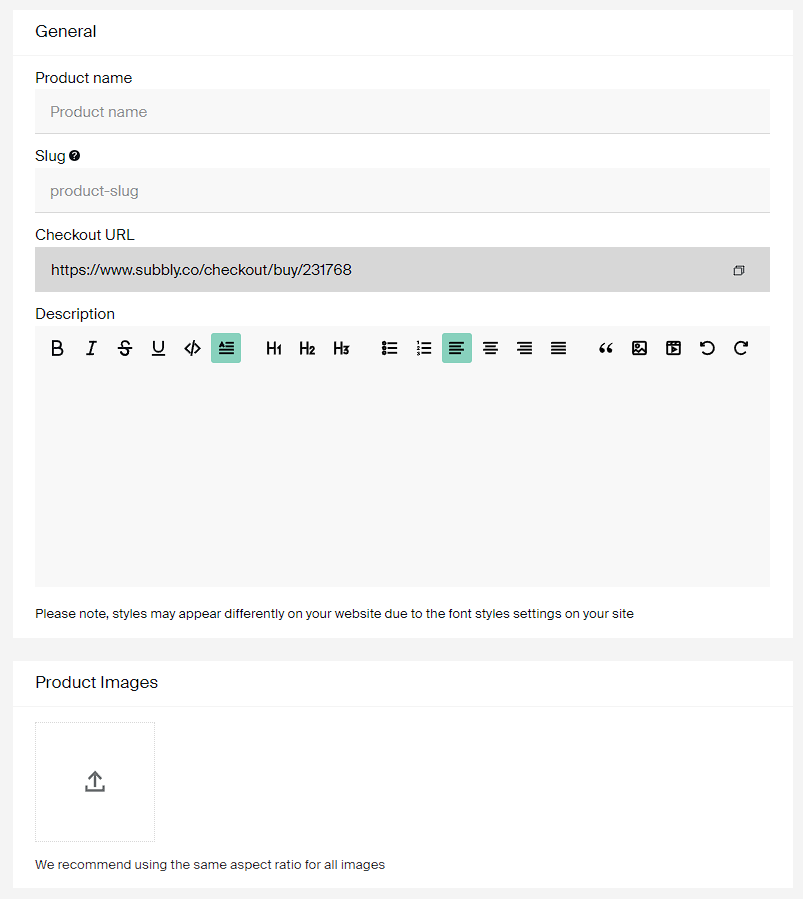 Step 0 - Basic info
Give the product a name and slug will automatically populate. Below you will see the Checkout URL that belongs specifically to this product. 
Now it's time to add an image and a description to nicely attract your customers' interest (these will be visible on the product pages of your store).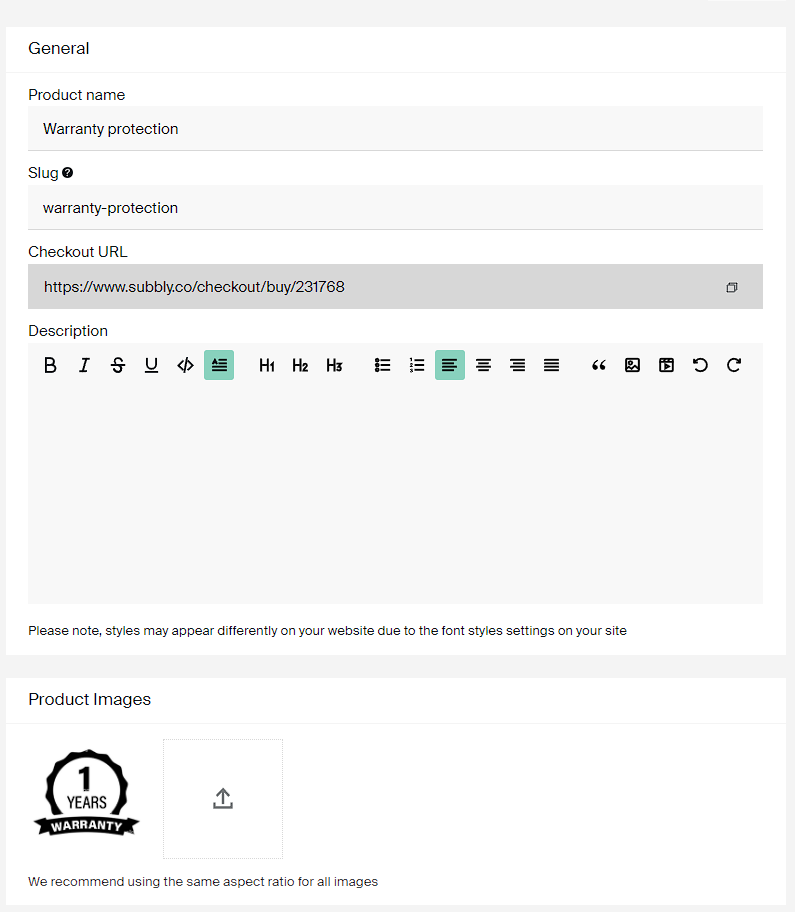 Ideally, product images should be less than 200KB in size to optimize site loading time and performance. Using the same orientation (portrait vs. landscape) for every image is recommended as well.
Step 1 - Billing and Shipping Terms
Click on Add a pricing option and here is where you will define a price for your product and the billing cadence (you can add as many pricing options as you want!)
When creating the pricing option, you're able to set up literally any cadence, as the platform will let you choose to bill every X number of days/weeks/months
You can also opt to offer a Trial period which stands for offering a discounted initial price for X number of days. Additionally, but not mandatory at all, you can set a Commitment period, ie., X number of billing cycles your customers won't be able to cancel their subscription. 
Finally, you can surveys to the membership product if you need to collect additional data from your customers/subscribers.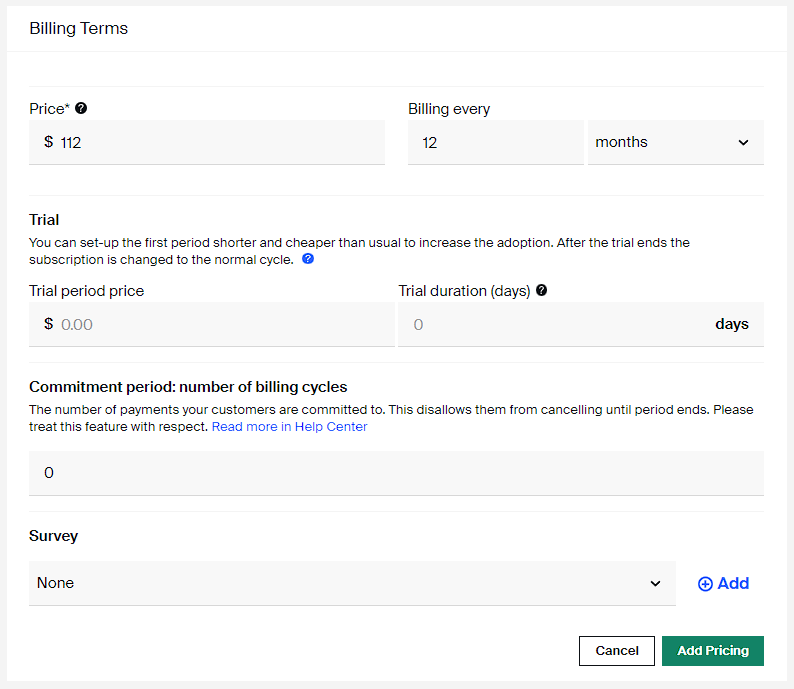 Step 2 - Additional Settings
Setting up this section depends entirely on your needs.
On one hand, you can use the Setup fee functionality which is a one time payment always taken right after the checkout but only once. 
And even though you don't plan to ship any product on a regular basis, you may be thinking of occasionally sending something to your customers and that's why we thought that you may find it useful to ask your customers for their shipping address (just in case) and provide a bit of info on what their expectations should be in regards to shipping date. For this purpose, you can use the Collect shipping address toggle and the Shipping information field (note this part will only be displayed on the checkout success page).
There is important difference related to whether you're collecting shipping address on the checkout or not. If you're not collecting the shipping address, no physical order will be created on the backend. If you do collect the shipping address, the order will be created for the membership product as well.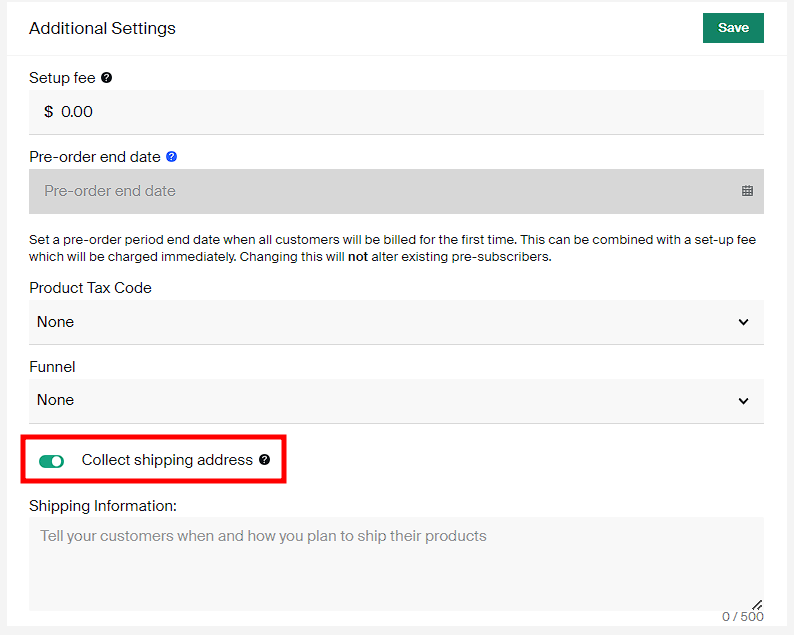 E.g., if you're selling a digital product or offering an online service, you may want to keep the collecting shipping address toggle off. But if your subscription includes an item that has to be replaced/refilled every certain period of time, then you should be collecting the shipping addresses.
Please note that
taxes
will only be added to membership subscriptions if shipping address is being collected at the time of checkout.
Step 3 - Inventory
This is not a mandatory step. If you're using Inventory to keep track of your stock levels of to manage the handling of out of stock, this is where you can add inventory and SKU items to the product in question. 

For more information on how to properly set the inventory tracking for your products, please make sure to double check the corresponding article
HERE
.
---
FAQ
Can I set up an anchored billing for my membership?
You can't. Think of any membership plan you know, from your gym's to Netflix, they always start as soon as you sign up and will continue to bill you on that same day for the following periods
Can I enable gifting for memberships?
Nope, and reasons are pretty much the same explained above. Gifting allows a future date start and can limit shipments, but memberships start right away and should keep going until cancelation. Additionally, shipments are just optional for this kind of product. 
What if I collect shipping address and won't be using all of the generated orders?
Np! You can always archive redundant orders as explained here.
---
Any questions? Subbly's friendly support team is one click away!
Did you find this resource helpful?