How to connect a domain to your website?
How to connect a domain to your website?
For your site to be identified on the Internet, it should have a domain name that best describes your brand. You can buy your very own domain from the likes of GoDaddy, G Domains, Namecheap...  Once you have your custom domain, follow these instructions in order to connect it to your Subbly site.
---
You are able to add custom domain to your website only if you're on one of the following 
Subbly plans
: 
Basic, Subbly, Advanced.
TL; DR
If you prefer video instructions over written instructions, you can take a look at the video tutorial on how to connect domain through GoDaddy below
---
Step-by-step process
Some steps of the process of connecting your domain to your Subbly store can differ for a bit depending on the domain registrar you used to acquire your domain from but, in a nutshell, you'll always have to follow procedure listed below
Start off from your Subbly dashboard and go to the Website Builder > Edit Active Site section as in the picture below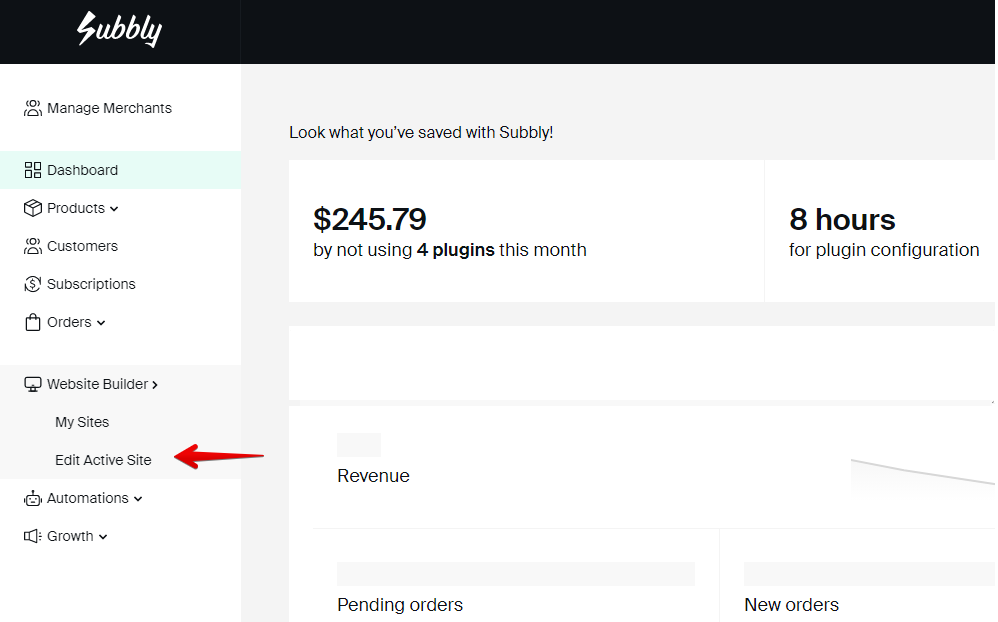 From your builder's admin, you'll need to go to the Dashboard as indicated on the left sidebar of your builder

Open the Domain app from the dashboard

From the window that's about to open, click on Connect Domain > Connect Existing Domain and provide your domain in the appropriate field in the following format: yourdomain.com

You'll be presented with the following 2 A records with associated IP's which you'll need to replicate and paste into your domain's control panel DNS settings 👇

At this point, you'll need to copy the records as stated on the image above to your domain's control panel DNS settings. If you're not sure how to access DNS settings on your domain, please make sure to reach out to customer support reps on your domain registrar to help you through the process.
---
How to troubleshoot if the SSL is not propagating?
If you're not seeing the SSL green check mark being shown in the Domain section on the website builder after the initial 24 hours have passed (depending on the domain hosting provider) or you're seeing a ❗ error in it's place, you probably need to resolve a problematic record on your domain hosting. 
Do note that if you're seeing the notification which says that the SSL is still propagating and it may take up to 24hours, then it's simply a matter of time before it's propagated fully, so feel free to leave it as is.
Make sure that you delete all excessive A records which were previously directing to some other platform(s) as you'll only need A records pointing to Subbly. This is done directly on your domain hosting provider, under DNS records or Records section.
The records will be shown after clicking the error logo and you'll be able to see all of the addresses there. You will need to delete all of these shown here, as at this point, you'll only need the two A addresses pointing to Subbly!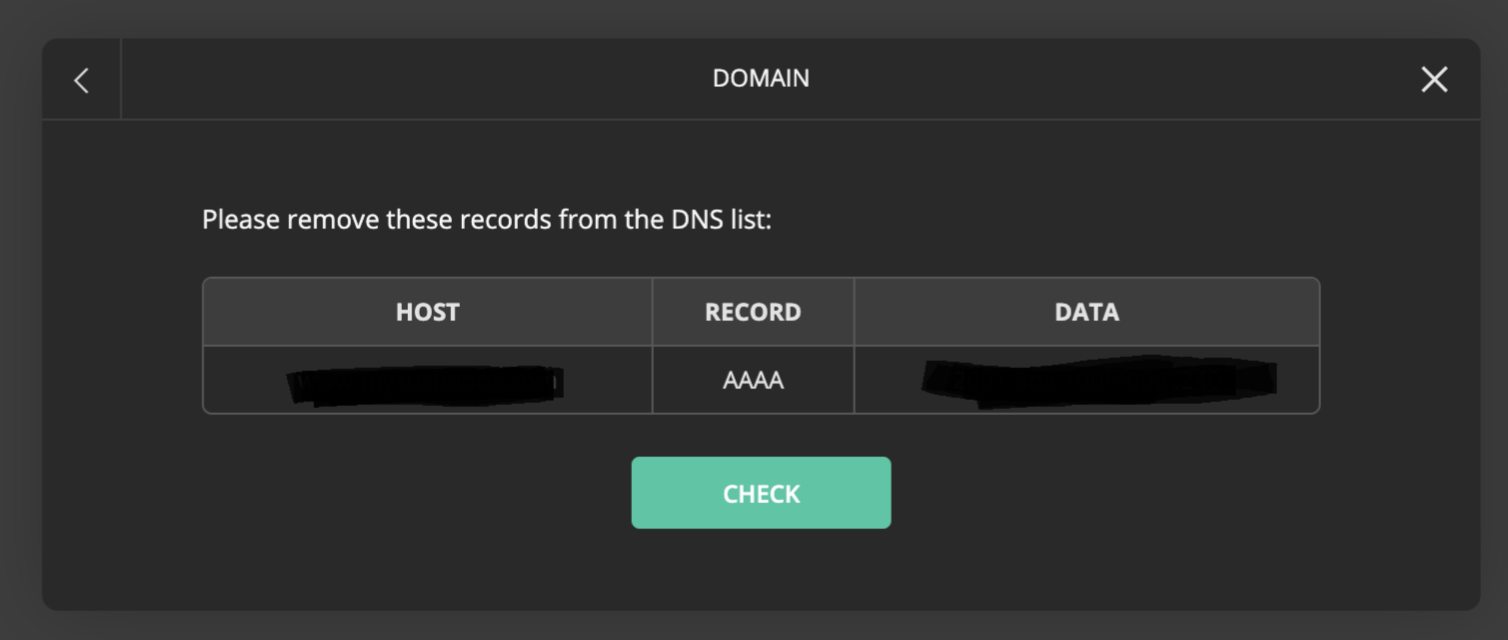 ---
GoDaddy Example
In the following section, you'll find instructions on how to connect domain from GoDaddy, however the process is the same for literally any other domain registrar, you just need to copy the 2 A records provided by Subbly and that's it.
Log in to your GoDaddy account and open your product.
Select your domain name from the list to access the Domain Settings page.
Scroll down to the Additional Settings section and select Manage DNS.
On the DNS Management page, at the bottom of the Records section, click Add.
Select A from the Type drop down and add 2 A records provided by Subbly to complete the required fields.
Head back to your Website's Domain Manager and hit the 'Check' button to finalize the process.
If you've done everything correctly, your DNS settings on GoDaddy should look like as seen in the picture below

---
Adding SSL Certificate
If the domain has successfully been added and have propagated, you will see the following Connected label right beside the domain name on your Domains tab: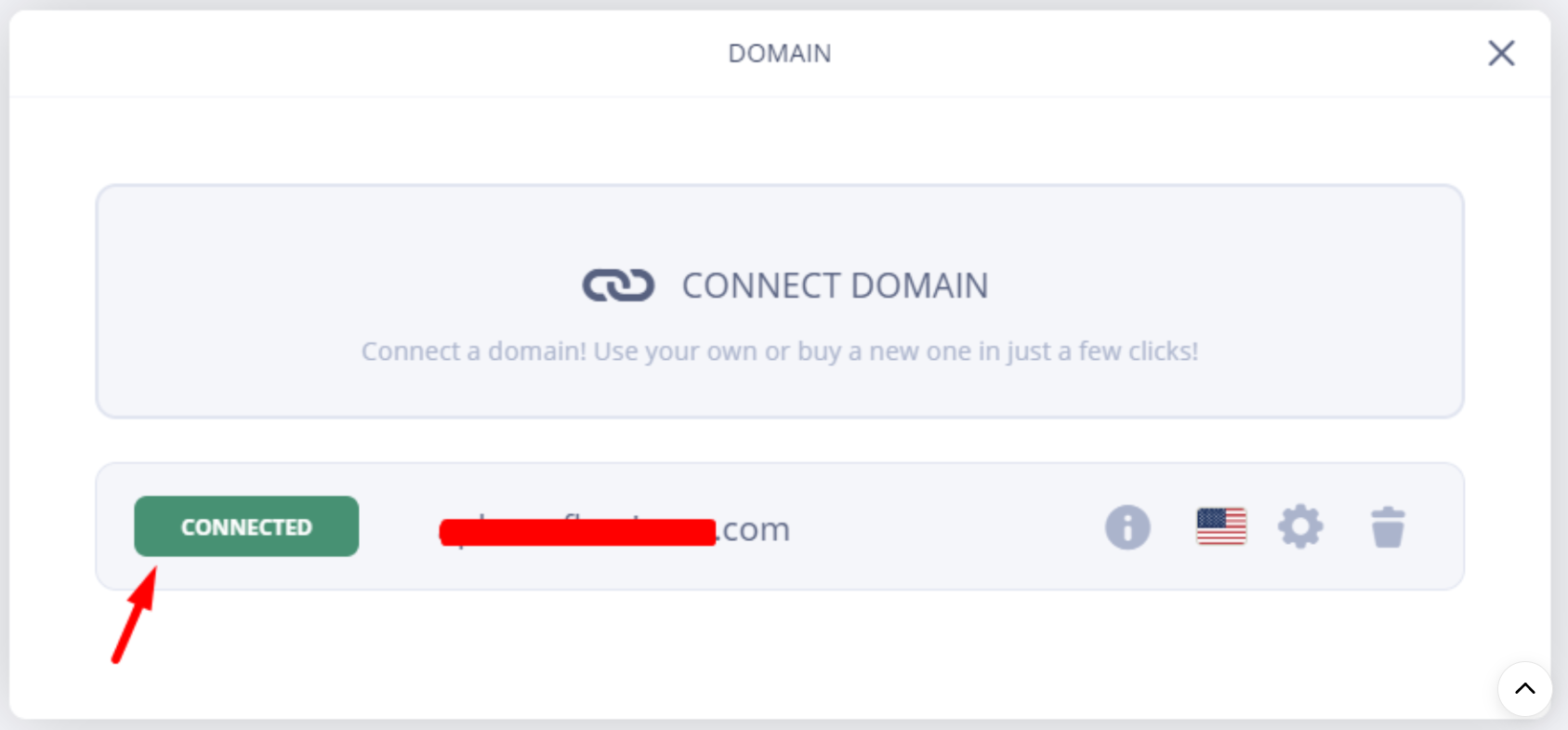 With Subbly, you'll also get the free SSL! Just click on the little gear icon and you'll see in what status is the SSL propagation: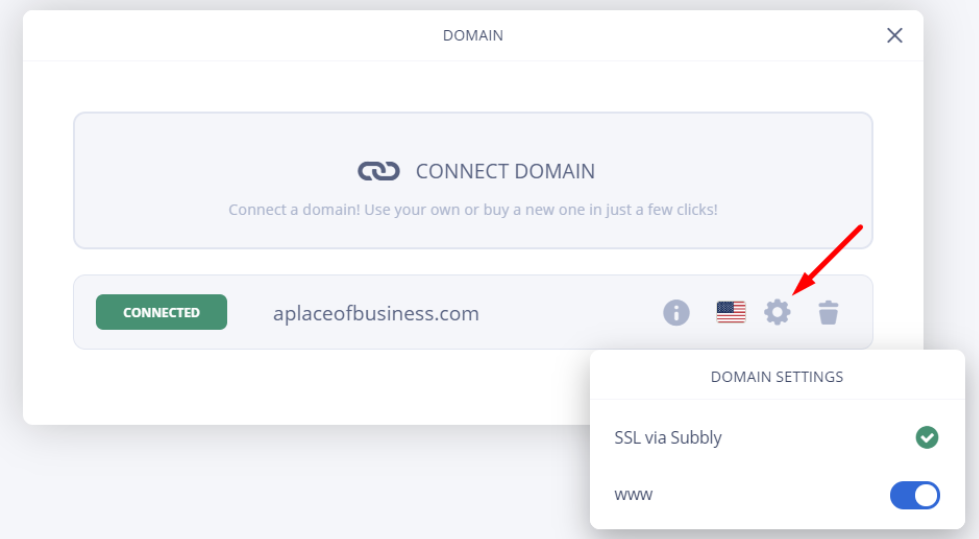 Note that SSL certificate needs some time to propagate and to be added to your domain, so please give it some time. If we were experiencing problems adding the SSL to your site, you will see the yellow exclamation mark instead, and you'll find what exactly is the problem by hovering over it. 
As always, make sure to get in touch with our support team which will gladly help and assist with this.
Did you find this resource helpful?