How can I migrate my customers from Stripe?
How can I migrate my customers from Stripe?
Did you know that you can move all your current subscribers over to Subbly and painlessly? If you're considering to switch your business to Subbly our team will be glad to do that for you and completely free of charge. This article explains the process of migrating the customer base if your customers are handled through Stripe for taking payments. 
---
Getting Started
In order for us to do this we will need you to follow in certain steps. Here is what needs to be done:
Please contact us and let us know that you'll like to migrate your business over. Our team will send you a CSV file which you'll need to fill for us so we can commence the migration process.
Go ahead and sign up for Subbly. It's important that you connect your Stripe account to your Subbly and to create products on Subbly before the migration commences.
Make sure not to cancel your customers' accounts on your previous platform before we finish the migration. It's recommended that you disable any automatic email notifications on your current platform so your customers don't get confused when they receive the notification that their subscription was cancelled (when in fact their subscription was just moved to another platform).
We will schedule the migration date and you'll need to send the CSV properly filled out that is going to be up-to-date 24 hours before the migration is scheduled.
Sit back, relax, and we'll let you know when you're all good and set to go on Subbly.
After the migration has been successfully completed, we will mail you a CSV with the randomly generated passwords for your customer's accounts so they can login to their customer login area on Subbly and manage their subscription. You might want to mail them their new passwords and to let them know that they will be managing their subscription on Subbly now. 
---
Guidelines for properly filling out CSV
When filling out CSV, please pay attention to the following:
next_payment_date needs to be in the YYYY-MM-DD format.
stripe_cus_id can be found inside your Stripe admin for every customer, like in the picture below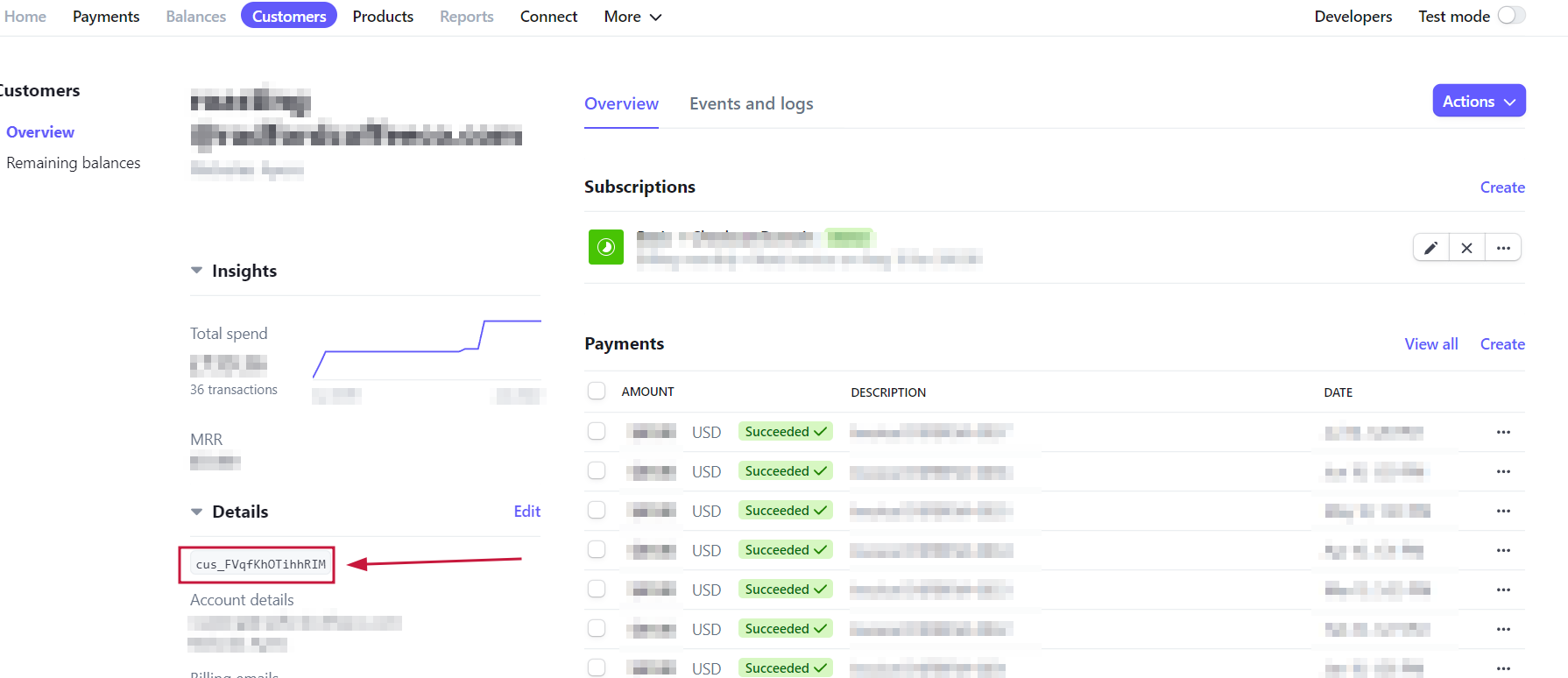 address_second_line and address_phone_number are not mandatory fields but it's good to have them, right?
address_country field needs to be full name, and not abbreviated (''United States'' is correct, ''US'' is not )
if you have some specific customer preferences active on your customer's accounts (customizations like specific shirt sizes, color preferences for their products etc..) please note that this information can't be migrated over. Instead, you can input all this info into notes column inside the CSV. 
shipping_method_id field needs to be filled with the Shipping rule ID you wish the migrated customer's subscription to be applied to. You can find said ID by going to your Shipping methods and copy the ID found on the right side of every shipping rule.

Please do not add or remove any rows/columns from the CSV that was initially provided by the Subbly representative. Instead, if you have any questions, make sure to mail them to support@subbly.co and someone will get back to you shortly. 
---
Important notes
Some things you'll need to be aware of regarding migration:
We are currently able to migrate your business over only if your customers are handled through Stripe. Your current platform is mandated to export the customers profiles into Stripe if they didn't do that already.
If you're migrating your business over from Cratejoy, please be aware that we won't be able to migrate any customers that were initially acquired through their marketplace. Moreover, prior to commencing with migration from Cratejoy, you will need to make sure that they can arrange import of customer profiles in Stripe. This needs to be communicated directly with Cratejoy's customer support. 
If you have more than one product on your store, you will have to create a separate CSV for every subscription product.
We are not to be held responsible for any errors that were caused by mistakenly inputting faulty data in the CSV. Please be aware that we can't and won't do any amends on the CSV you provided for us, we are just using what we were given to migrate your customers over. We won't be able to retroactively change any data on your customer's profiles so make sure to double-check all the entries before sending the document and giving green light for migration. 
Finally, please be aware that migration process is something that is still in infant stages of development and certain glitches may occur when migrating data from one platform to the other. We are not to be held 100% responsible if any errors occur during the process as we are not the only entity involved. But don't worry, everything will go smoothly and you'll be up and running in no time.
If you're migrating away from Cratejoy, you will have to schedule your customer data to be migrated over from Cratejoy to Stripe beforehand (this may take from a few days up to few months, depends on Cratejoy). Please reach out to the CJ support team to inquire about the process and on the ETA of the migration. When migrating, please make sure that you have the same Stripe account connected to your Subbly where CJ previously migrated your customer data in order for migration to be successful.
Did you find this resource helpful?