Content feed (How to use Subbly as a paywall?)
Content feed (How to use Subbly as a paywall?)
Updated by Andrija Krstic
Are you offering digital goods as part of your subscription? Is that the core of your subscription offering or you're only offering it as a supplement to your physical product? It doesn't really matter, as Subbly has you covered either way! Read here how to set hidden content feeds which are accessible only to paying customers of your store.
---
This feature is available on all Subbly plans, but it has tiered usage limits depending on the plan. Please review the pricing page
here
for additional information.
What is content feed and how can you use it?
Content feed is a dedicated feed visible inside the customer portal to the paying subscribers of your store. It can be attached to any subscription or one-time product you have active. You can use it in an infinite number of scenarios, we're going to list a couple of them below.
Offer purebred digital type of subscription through Subbly's content feed.
Example would be offering training courses on a certain subject to your monthly subscribers. By connecting the content feed to a
membership type of product
on Subbly you'll make sure that all subscribed to a specific membership product have access to the digital content available on the feed for as long as they are active subscribers. In order to achieve this setup we recommend going with setting up
membership subscription
(one that doesn't require any physical delivery) and combining it with the content feed.
Offer digital content feed as a supplement to existing physical subscription.
An example here would be offering
how to
video tutorials as a supplement to your physical product. Imagine running a knitting subscription box and sending out knitting and sewing supplies on a monthly basis to your subscribers. It would be perfect if you can provide a useful content feed with
how to
video tutorials so they can get the best out of their box! For this type of setup, we suggest going with regular
subscription product
and connecting the content feed to it.
Setup store of one-time products selling digital goods.
If you're simply selling a digital product as a one-time purchase and you don't mind transferring the lifetime ownership to whoever bought a particular product, content feed is the way to go! An example would be a reseller store of game keys and season passes. You buy it and you easily access it inside the
customer portal
! This one is easy and requires setting up a
one-time product
and connecting the content feed to it.
Came up with another use case? Please share with us how are you using Subbly's content feed!
---
How to set this up?
Content feed can be setup from within the admin's Feed section, by clicking on Create a Post button.

Creating the content piece from here on is very easy. You can use the HTML free-form input builder to write down the body of the post, you can embed videos (uploading videos is currently not possible as we don't provide cloud storage for hosting large files), include images and PDFs or link directly to external files.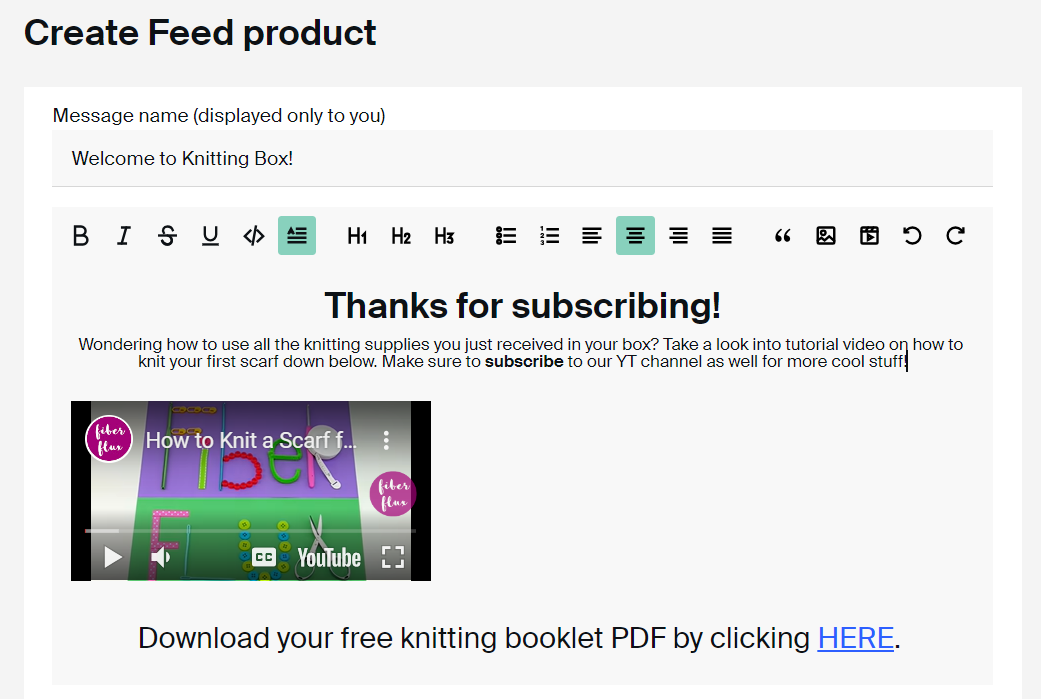 You can additionally tag your posts, which will make it easier for your customers to subsequently search through the content feed on the customer portal by filtering by tags.
Useful if you're running a course program where you can tag each lesson by the order number of the lesson. This will make the new subscribers' (course enrollers) lives easier as they will always know the order of video lessons.
Important part of the setup is making sure that content feed gets attached to correct product(s), which is something you need to specify by adding products from the drop-down as in the image below.

Content feed can be attributed to infinite number of subscription and/or one-time products. On the other hand, if you have a couple of different content feeds attributed to the same product, any subscriber of one of given products will have access to that content feed.
If you leave this part blank, ie., if content feed is not attributed to any products, content feed will default to all subscribers of your store and everybody will be able to see the feed, regardless of the product they are subscribed to.
After you're done with the feed setup, make sure to publish the feed. You are able to change/edit the feeds subsequently (regardless if they are published or not). You can also unpublish or delete the feed at any point.
---
How subscribers/customers see the feed?
If they are eligible to see the content feed (if they are subscribed to or have bough the product that has content feed attributed to it by the feed setup), your customers will be able to see the feed's content inside their respective customer portals, by visiting the Feed section of the customer portal.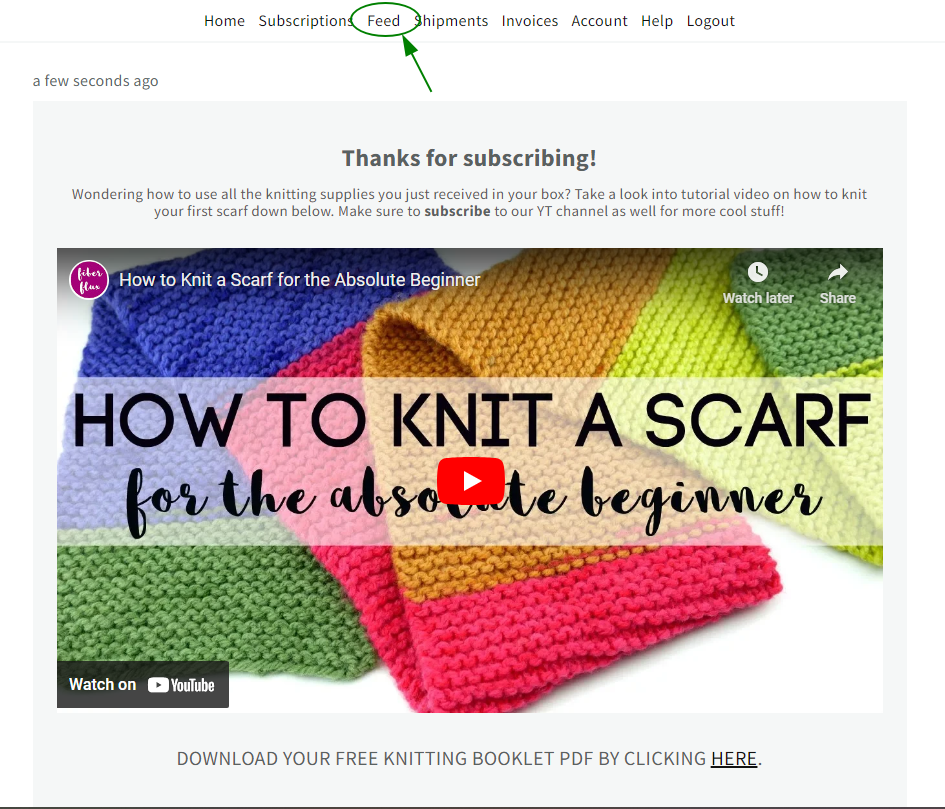 ---
How to automatically inform the customers about the new feed items?
Content feed is of no use if nobody is actually seeing it, right? Luckily enough, there is a way of streamlining and automating informing active subscribers when you publish new feed items.
In order to be able to do this, you need to use another Subbly feature -
Automations
.
Setting up an automation is very easy, it should have Post attached to customer as a trigger.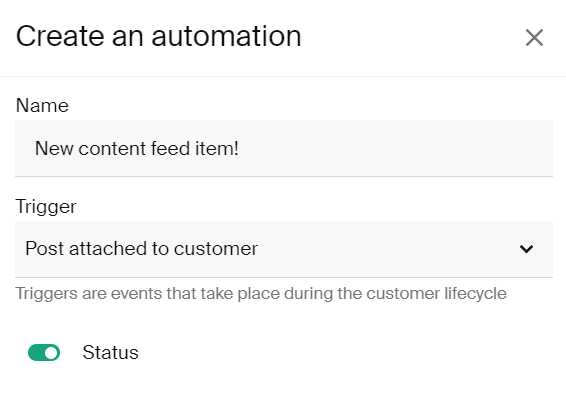 You can choose how'd you love to interface/inform the customer when the new post gets attached to their customer portal. If you're sending out an email, make sure to populate the body of an email with necessary information and link to the customer portal as well. Example would be: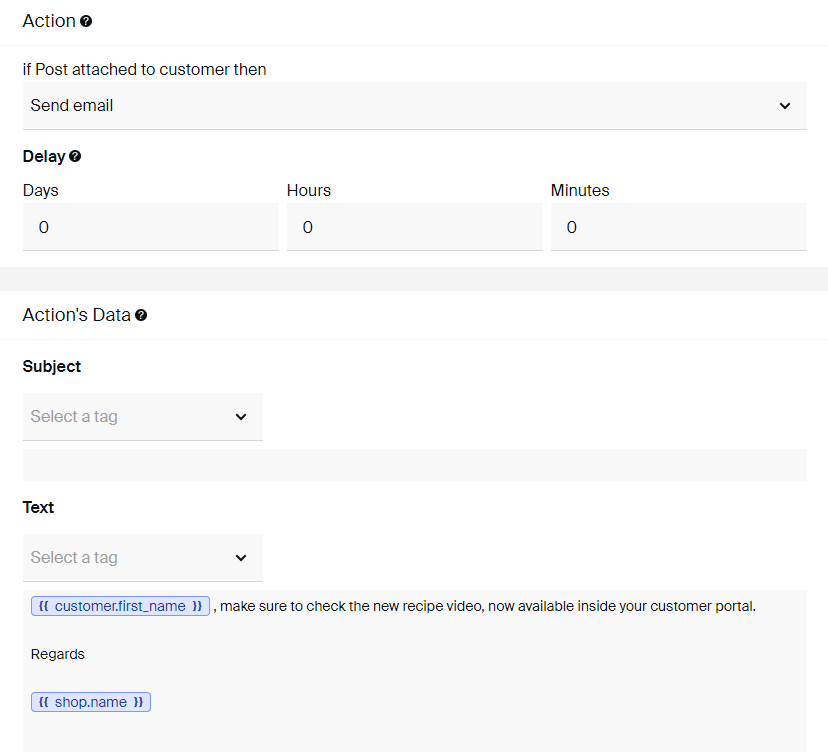 And that's it! Your customers will be notified whenever you publish the new item to their content feed so they don't miss a single post!
---
FAQ
If customer is inactive, can they still see the feed?
No. As soon as the subscription status changes to inactive, customers won't have access to the feed any longer.
What if the customer is subscribed to 2 subscription products, both having different feeds attributed? Will they see 2 different feeds on the customer portal?
Yes, they will see content of both feeds, but they won't see 2 feeds. They will see it combined in one feed within the Feeds section of the customer portal.
Can I upload files to the feed?
Due to cloud hosting limitations, you won't be able to upload larger files to the feed as of now. Uploading images is OK, but uploading videos or larger PDF files etc is currently not possible. You will need to host these elsewhere and make sure to link to them from the feed post (or embed the video inside the feed).
Can my customers comment/interact with my feed items?
Not as of now, but we're working on adding this functionality.
Why am I not able to add more posts to the feed?
You are probably limited to certain number of active posts if you're on one of the lower plans (Lite or Basic). Upgrading to Subbly or Advanced plan will make it possible for you to have unlimited number of feed items published. You can see how to upgrade your Subbly plan here.
What if someone shares the external link to my video with those who are not subscribed to my service?
Let's reverse engineer this question - what if you got your videos uploaded to Subbly and someone actually downloads the video from within the customer portal and than pass the video forward? Embedding from external source or uploading to Subbly doesn't really make a difference here.
We'd suggest using free image/video hosting options and making sure that the videos embedded to the feed are not public. You can also flirt with password-protecting the videos and make sure that you're changing the passwords on a monthly basis. Sending changed passwords can be easily automated by setting up Subbly automation that will send an SMS/email to the active subscriber on every renewal. That way you can prevent people from having access to the videos after their subscription is gone.
Did you find this resource helpful?