This article will introduce the Domain App where you can manage everything regarding your domain in one place. 
---
Overview
For information and video instructions on how to connect the domain to your site (on an example of GoDaddy) you can refer to
this article
. 
To access the domain settings, go to Dashboard and navigate over to Domains App. Here you can see Subbly-given sub domain which you're currently using, and you will be able to go ahead and connect your own domain (which you've bought with one of the hosting providers out there).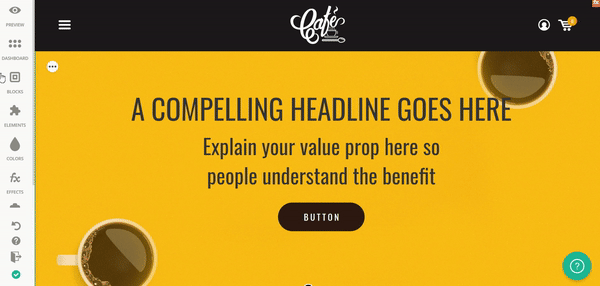 ---
Domain Settings
SSL via Subbly - Whenever you successfully connect a domain to your Subbly site, Subbly will attach the SSL to it in minutes' from when the sites get connected. That said, you won't have to do anything in regards to buying your own SSL certificate, Subbly got you covered.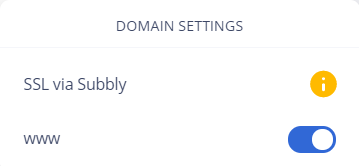 If we're having problems with propagation of the SSL certificate to your domain, you will see the icon similar to the one you see on the screenshot above. By hovering over the icon you will get additional information on what the problem is and what you need to do to troubleshoot it. 
If there's no problem with it, you will see the green checkmark showing that SSL has been added to your site.
Connecting site to the subdomain, and not to the root domain - Subbly gives you an option to remove www for your domain. A domain without the "www" is called a naked domain. While enabling this function will allow you to use both www and non-www canonical host name for your domain. That said, your site visitors will be able to browse your domain with or without the "www" prefix. This avoids duplicate content on Google and the possibility of split page rank.
Language switcher - This functionality allows to link a specific domain to a certain language attributed to your website.
To setup different language options to your website, visit the
Languages App
from your
Dashboard. 
---
Important considerations
Connecting multiple domains
You can surely add multiple domains to one site to help potential visitors find you better. Subbly lets you register as many domains as you need to expand your reach. Trust us, this is a great way to direct traffic to your site and give visitors multiple ways to find you.
Connecting and not transferring
Subbly allows you to connect your domain without transferring. The former one is also called domain mapping. Your current provider continues hosting your domain, but by adjusting a few DNS records, you can point the domain to Subbly IP addresses. What's important here is that you won't be using Subbly's NS records (nameservers).
Web hosting and not Domain hosting
Web hosting and domain hosting are two different things. At Subbly, we offer a free web hosting, but not domain hosting. As you already know, we partnered up with Google to guarantee you top-notch hosting. It's needless to say that Google Cloud hosting is among the most reliable ones on the market so your website will be in good hands.
Did you find this resource helpful?