How much does it cost to use Subbly?
How much does it cost to use Subbly?
Subbly's pricing is made to be transparent and scale-friendly for you and your business. We do have 4 plans, each one with it's own set of features which will help your business grow through different stages of growth.
---
Pricing Plans
You can check our pricing page at any point by visiting it
HERE
. 
4 different plans on Subbly are: 
Lite - ideal for starters and for gaining initial traction
Basic - built-in marketing and localization features for your store and the checkout
Subbly - everything you need for your growing business
Advanced - for scaling businesses
If you're an already established business looking to move to Subbly and if you're interested in custom-tailored Enterprise plan, please make sure to
reach out to us
and we will get you up and running.
---
Monthly vs. annual
Please note that Subbly offers a discount if you commit to an annual plan instead of deciding to go month-by-month. When subscribing for the yearly plan you will get the discount equal to the 3 months of regular monthly usage of the plan. Amounts that you'll need to pay upfront when opting for an annual plan can be found below:
| | |
| --- | --- |
| Lite | $171 |
| Basic | $351 |
| Subbly | $711 |
| Advanced | $1431 |
Switching between plans from the My Plans section of the admin is possible even if you're on the annual plan. Please note that the sum will be immediately prorated and charged for the remainder of the year if you're switching to the higher plan. If you're switching to the lower plan we will not process a refund of the prorated difference. Instead, your account will be credited for the difference which will be deducted off from your next transaction on Subbly.
---
How do I know which plan is best for me? 
Our plans are tailored to grow along with your business. More or less, you will get access to all of Subbly's features on any plan, however, some of the feature's functionalities (more advanced ones) are only available on one of the higher plans. 
Pay close attention that the features have different usage limits on different plans so you'll likely need to opt for one of the higher plans as you continue to scale your business on Subbly. You can find the plan table in the picture below.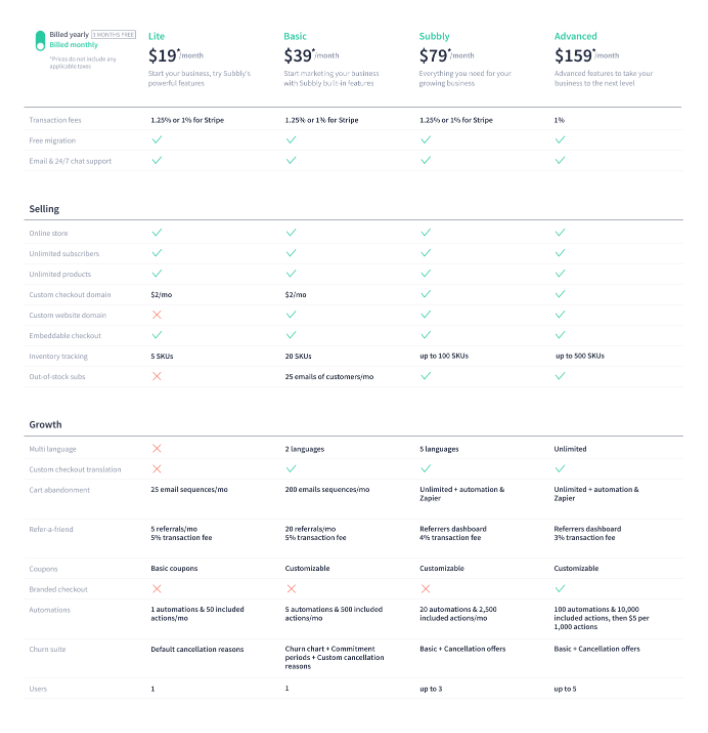 If you have any questions in particular, please do reach out to our friendly support team and we'll get you sorted in no time.
Did you find this resource helpful?